Sonal's 40 years in dance
Suman Ray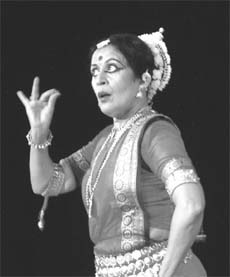 Padma Bhushan Sonal Mansingh couldn't have asked for a better gift on the completion of her 40 years in dance.
As her first disciple Swathi Bhisei captivated a select Delhi audience with a performance on Bharatnatyam dedicated to the legend, Sonal's joy knew no bounds.
Swathi — her first protege at the Centre for Indian Classical Dances which the Bharatnatyam and Odissi exponent established in 1977 — stole the limelight, with amazing control and brisk feet movements, at a cultural ceremony here recently.
Instrumental in introducing Bharatnatyam in the curriculum of around 300 schools in New York, Swathi is carrying forward the tradition of her guru in the USA.
"The performance of my disciples now constitute the greatest gifts in my life...no honour can match that," Sonal told UNI on the sidelines of a function to mark her 59th birthday and the completion of her four decades in dance.
For Sonal, the real significance of the artistic traditions of the world is the power inherent in them. "If an art form does not have the capacity to create a tradition...it cannot be called a classic," she said.
The evening also included scintillating performances by her disciples Pallavi Sethi (Odissi) and Pallavi Saran (Bharatnatyam).
Former President R. Venkataraman said Sonal had danced her way into the hearts of the people. "She is one of the most complete danseuse in the vortex of the contemporary world. She represents the whole of Indian culture...she is a philosopher among dancers," he added.
Information and Broadcasting Minister Sushma Swaraj said Sonal had "lived dance", experienced its many splendours and was constantly interpreting and relocating this form of art. "Not only her footsteps and expressions are extraordinary...her 'bindas' (cheerful) style will always keep her ticking at the highest level," she added.
Member of Parliament L.M. Singhvi said Sonal should be nominated as a Rajya Sabha member for her contribution in the field of art and culture. "She will bring dignity to Parliament and increase the standard of debates," he added.
Sonal, who has been performing extensively on stage since 1961, is a thinker, researcher, orator, choreographer and teacher and all these combine well in her dances.
She staged several performances in abroad since 1965 in Geneva the latest being Odissi festival in the USA and Canada.
She has travelled widely, seen and assimilated myriad dance and art traditions of the world.
Sonal is a master of Odissi, the ancient and traditional dance style of Orissa, and has decades of training in Bharatnatyam, Chhau (martial dance from Orissa) and Indian music.
She is widely acclaimed for choreography that include "Indradhanush" a fusion of Indian film songs with classical dance, "Mera Bharat" on the golden jubilee of India's independence, "Draupadi", "Shiva Tandava", "Gita Govinda", "Sita Swayambaram" and "Chaturang".
Lately, her work has veered towards issues concerning women, environment and reinterpretation of ancient myths.
Sonal, one of the youngest recipient of Padma Bhushan (1992), has won several awards, including Shiromani award (1989), Rajiv Gandhi Excellence Award (1991) and Indira Priyadarshini award (1994).
She has also won several international awards, including Sanatam Nritya Samman from the Prime Minister of Mauritius, Medal of Friendship from Vietnam and Cuba. UNI