M A I N N E W S
Police overhaul in Ahmedabad


Fact file
Police Commissioner Pande shifted
13 more IPS officers transferred
Muslim officer made Security Adviser to Modi
Five more dead, curfew continues
Ahmedabad, May 10
Under attack for its handling of the continuing violence in the city, the Gujarat Government today effected a major shake-up of the city police shunting out the Commissioner, Mr P.C. Pande, even as it appointed senior Muslim police official to assist the supercop, Mr K.P.S. Gill, Security Adviser to the Chief Minister, Mr Narendra Modi.
In an apparent bid to instil confidence among minorities, Mr A.I. Syed, Joint Director of State Police Academy, has been appointed as an Officer on Special Duty to Mr Gill in addition to his responsibilities in the current post.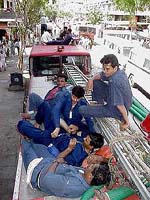 Fire brigade personnel relax on fire tenders during a strike called by them in Ahmedabad on Friday.
— PTI photo


In video (28k, 56k)

At a meeting held by Mr Modi yesterday night, it was decided to shift Mr Pande in "public interest" and to appoint an Additional Director General of Police (CID Crime), Mr K.R. Kaushik, as the new city police chief. The shake-up involves 14 senior officials
Mr Kaushik is also currently investigating the Godhra train carnage that triggered communal violence across the state.
Mr Pande, who attracted criticism for his remarks at the height of post-Godhra violence that the police ranks were also affected by the prevailing prejudices, has been transferred as the Additional Director General (Armed unit) in Gandhinagar to replace Mr Kaushik.
The overhaul of the police apparatus comes less than a week after Mr Gill was made the Security Adviser to Mr Modi in an attempt to contain the raging violence that has so far claimed over 900 lives in Gujarat. Even as the new Police Commissioner, Mr K.R. Kaushik, was taking over the charge the curfew was reimposed in parts of the walled city under four police stations.
Meanwhile, five persons died and 33 others were injured in continuing violence in the city forcing the authorities to reimpose indefinite curfew in four sensitive areas here today. The toll in Gujarat has now reached 933, including the 59 killed in the Godhra train massacre on February 27.
According to the police, two persons were killed in police firing, while one person was burnt alive in the Kalupur area and another person was stabbed to death in the Gaekwad Haveli area. One person who had been admitted to V.S. Hospital succumbed to injuries today.
Curfew was imposed in the Gaekwad Haveli at 9.30 a.m., followed by Kalupur, Danilimda and Kagdapeeth areas at noon. The fire brigade staff called off their overnight strike following the State Reserve Police protection provided to them.
Fire brigade sources said they had received more than 12 calls from various parts of the city today, mostly from the Danilimda and Gaekwad Haveli police station areas. PTI