Gitanjali Sharma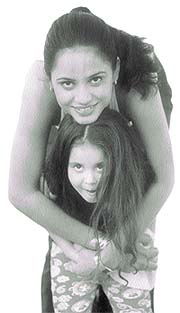 A mother may continue to nag and reform the child each minute of the day, but it is the father's authority that the child fears to undermine. The father doesn't oversee, monitor or pry into his offspring's hour-to-hour affairs yet it is he who wields the invisible disciplining rod. A boy who wouldn't think twice before asking his mother for some money would prefer giving his date a miss rather than approach his father for the cash. The same holds true for a daughter too, who finds it easier to take permission for a late night from "mummy dear" instead of broaching the topic with the "world's loveliest but… dad". A father may be kind, understanding, loving, jovial and even playful but he exudes a silent strength and might which a child doesn't like to tamper or take liberties with. As per psychologists, it is this healthy mix of emotions and authority exhibited by both parents that forms a healthy environment for nurturing children.
So what happens if a child has to be raised single-handed by a mother, for any which reason? It could be because she is a widow or a divorcee or somebody who has chosen to adopt or have a child on her own or because her husband's work demands long spells away from home. Whatever the reason, the fact remains that all such women face a number of problems, some of which are inevitable and some that can be of their own making.
Factors that hamper a single mother's task
Consciousness of their single status: Dr R.S. Bedi, a leading paediatrician in Chandigarh, says one of the biggest follies that single mothers make is that they don't let themselves forget that they are single. This inability of the mother to overlook what she thinks is a deviant status reflects in her behaviour, reactions, interactions and relationships. For instance, a single mother may like to restrict her social behaviour, thereby making the child's environment unfavourable for growth. The child meets fewer people and misses out experiencing a wide range of social situations.
This consciousness, which can also lead to a deep-seated complex, can also make the mother commit the mistake of either being overprotective or overindulgent or too strict, all of which can make the child go awry.
2. Conditioning: The single mother raises the child as per her conditioning— what she has been habituated to think is right or wrong in her childhood and adult life. Since the mother's is not only the last but also the only word, so there's little chance of any dilution in the orders. In regular families, if any sharp likes and dislikes of a parent are being thrust upon a child, he can hope to find an unbiased listener, if not an ally, in the other parent. Children's are benefited when two adults jointly reach upon a decision. Dr Bedi says when his daughter sought permission to celebrate her 16th birthday at a discotheque, "my wife was flabbergasted but I was willing to hear my daughter out. Finally, we allowed our daughter to have her party home with a DJ in tow."
3. Trying hard to compensate for the father: Most single mothers take it upon themselves to not let the child feel the loss of the second parent. But this is tough, if not impossible, to achieve. If you don't have one leg, how can you assume that you can run speedily with two? And in this process of striving to perform the role of a father, she forgets her part as a mother.
4. Losing identity: When a mother's life becomes child-centric, she begins to lose her own identity and personality. The thought that "I am living for the child", does not benefit either the child or her. If a mother fails to develop her personality and sacrifices her career, friendships and hobbies in the hope of raising a happy child with a well-rounded personality, she is most likely to be proven wrong. It is probable that when the child grows up, he will think less of her for not having a self-identity.
5. All activities change: It is generally witnessed that when fathers' go away for long periods as in the case of those in the merchant navy or the defence forces, many of the activities in the house are suspended or undergo a change. The socialising decreases, food habits change, at times even the mother's way of dressing alters. And when the father returns, it becomes party time for the children. Like a 12-year-old girl of a merchant navy officer puts it: "When papa is away, mom becomes very overprotective. We even stop going to restaurants." This sudden change in the activity scene makes the child think that the mother is weak. It is only the father's visits that he looks forward to.
6. Mothers are more emotional: It is easier to enforce discipline, if the mother is consistent in her behaviour. Since women are more emotional than men, the children can manipulate them more. One woebegone look from the child, and she would be tempted to change her decision or retract her orders. To raise a disciplined child, consistency about what is expected of him has to be shown since he is a mere toddler.
7. Feel inferior to men: In our male-dominated society, it is hard to shake off the myth that men are superior. But a woman has to realise this fact for herself that she may be better if not on a par with men. This realisation comes easier to women who work along with men. Dr Bedi points out that a mother doesn't have to behave like a man to be a good parent. She should be herself and not lose her femininity.
8. Take away space: Most mothers smother the child with too much attention and do not give enough space to their wards. In comparison a father, by maintaining a respectful distance, gains the respect of the children. Constant interference also fails to establish one's authority.
9. Become untrusting: A bad experience, be it the betrayal of a spouse which led to the break-up in a marriage or duplicity of relatives after the death of a spouse can leave a permanent mark in one's lives. Finding it difficult to trust those around her, the mother may withdraw. Less and less interaction is made with others so that she and her offspring face no problems. This shrinking existence can affect the child's personality, and there's a possibility of his becoming an introvert.
10. Lack of awareness: Being unaware about financial or career-related matters can leave a mother floundering when it comes to taking major decisions like investing for the child's education, marriage or deciding on his career options Hardeep Sandhu, mother of two teenaged sons who lost her husband six years ago, says, "though it has been impossible to fill the void left by my husband, I miss him more now when one has to take certain crucial decisions about their career options. Her elder son is studying in PEC while the younger one has just taken his Class XII exams and is keeping her busy making enquiries and selections of engineering institutions to apply to.
11. Lack of male interactio: With the father missing in the house, the children are going to miss male company, which is crucial for their balanced growth. Mona Bhart, wife of a merchant navy officer and mother of two boisterous sons, aged five and seven, says: "I notice that sons my get very fascinated by any male visitor who comes to the house. They look at him in awe and observe his every action."