Tuesday, May 14, 2002, Chandigarh, India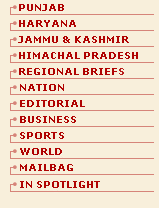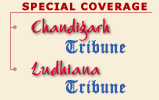 M A I N N E W S
Tragic end to inter-caste love marriage
Our Correspondent
Kaithal, May 13
An inter-caste love marriage between a local youth, Deepu Rana, a Rajput, and Geetanjali, a Jat girl and daughter of an ASI, which was legally registered, saw a tragic end when Deepu Rana, who was booked by the local police on the charge of rape a few days ago and allegedly beaten up by the brother of the girl, succumbed to his injuries at a hospital in Chandigarh and was cremated here on May 9.
Meanwhile, the girl, who consumed some poisonous substance following the beating-up incident, after struggling for life at a local nursing home, breathed her last this morning.
According to reports, the boy went to the residence of the ASI in the Civil Lines to meet Geetanjali on the fateful day. He was noticed by the brother of the girl and badly beaten up, injured and later shifted to the PGI in serious condition. Later, he was shifted to some private hospital there. The brother of the girl lodged a complaint with the police that Deepu Rana made an attempt to rape his sister, but when she raised the alarm, he hit the boy in the head to save his sister. On the basis of the complaint, the police booked Deepu Rana under Sections 376 and 511 of the IPC. The same evening the girl consumed some poisonous substance and was shifted to a local nursing home in a serious condition. She could not make any statement before her death today.
Interestingly, the whole affair took a new turn when Deepu Rana's brother brought to the notice of the SP, Mr A. S. Chawla, that Deepu and Geetanjali were major and had a court marriage on March 29, 2001, which was duly registered by the local Tehsildar-cum-Registrar, Marriages, Mr Lachman Dass Verma. The registration was duly witnessed by two persons who were identified by two local advocates. The boy and the girl had claimed before the Registrar that they had already got married as per Hindu rites on November 17, 2000.
Deepu's brother, who is a Captain in the Army, alleged that when his brother went to meet his legally married wife, he was mercilessly beaten up and falsely booked on rape charge due to the influence of the father of the girl who was a police official. Following this the SP directed the DSP, Headquarters, Mr Amir Singh Sabharwal, to investigate the charges levelled by the brother of Deepu Rana and report to him. The DSP, after a preliminary investigation, reported that there was no substance in the rape charge levelled against the boy.
The SP then suspended Sub-Inspector Randhir Singh, Raj Mal, ASI, and ASI Satpal, father of the girl. However, according to information, the police could not get the statement of Deepu Rana and Geetanjali as both were in a serious condition. The police has booked Vikas, son of ASI Satpal, under Section 304 of the IPC.