THE TRIBUNE MAGAZINES
On Mondays

On Sundays
On Saturdays

IN PASSING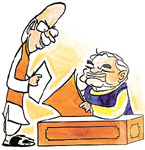 George Fernandes and Yashwant Sinha are safe. They are demanding the resignation of Nitish today!
by Sandeep Joshi
Bomb in wireless set goes off, SPO dead
Srinagar, May 14
A Special Police Officer was killed and another seriously injured in an explosion inside Lalpora police station in Kupwara district of North Kashmir today, official sources said.



Justice A. S. Garg resigns


Amarinder to request CJ for sitting Judge
Chandigarh, May 14
The Punjab Government may request the Chief Justice of the Punjab and Haryana High Court to spare a sitting Judge to head the one-man inquiry commission against the previous Shiromani Akali Dal-Bharatiya Janata Party government after the original appointee, Justice A.S. Garg, citing "personal reasons", quit office today.
India to expose Pak mischief
May 14, 2002

12 killed in UP rail accident
May 13, 2002


NDA leaves it to Vajpayee
May 12, 2002

Police overhaul in Ahmedabad
May 11, 2002

Jaguar crashes at Ambala
May 10, 2002

'Right to information cannot be curtailed'
May 9, 2002

Jaswant scoffs at foreign prescription
May 8, 2002

Satyameva Jayate, assert advocates
May 7, 2002

Ahmedabad burns again: 7 dead
May 6, 2002

Peace prevails as Gill takes charge in Gujarat
May 5, 2002