M A I N N E W S
Jammu bandh cripples life
Tribune Reporters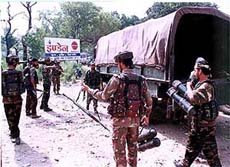 Army jawans taking away arms and ammunition recovered from the three militants after the encounter with militants in Kaluchak, near Jammu, on Tuesday. — PTI photo
Jammu May 15
Barring incidents of stone-pelting, the Jammu bandh, in protest against the massacre of over 32 persons at Kaluchak Army area yesterday, passed off peacefully today.
Life was paralysed with most of the shops closed and passenger transport services off the road. Several localities, including inter-district routes and city streets, wore a deserted look.
The call for the bandh was given by leaders of various political parties, social and religious organisations, besides leaders of Chamber of Commerce and Industries. All educational institutions were also closed.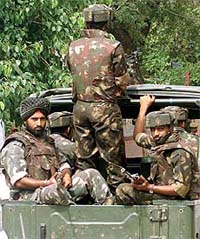 Armed soldiers patrol a street during a general strike in Jammu on Wednesday. — Reuters photo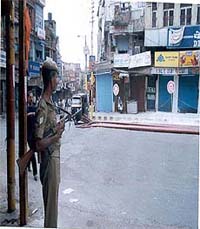 Deserted streets during the bandh. — PTI photo
Police and paramilitary forces were deployed in strength in sensitive areas. A group of protesters stoned matadors near Jewel Chowk in the city in which half a dozen vehicles were partially smashed. The police, however, chased away the protesters.
Passenger transport services were affected on the inter-state and inter-district routes. As a result, attendance in government offices was thin and several banks remained closed.
In Udhampur and Kathua, a partial bandh was observed. Private cars and two wheelers were allowed to ply.
Meanwhile, the Union Minister of State for Home, Mr I.D. Swami, visited Kaluchak and Military Hospital along with Special Home Secretary Ashok Bhandari.
Mr Swami condemned the terrorist strike and told newspersons, that Pakistan's involvement in such strikes was evident.
He urged the US Government and the United Nations to take a serious view of the carnages being committed by Pakistan-aided terrorists and said such acts were a violation of human rights.
He said measures were being taken to counter the Pakistan gameplan of disturbing the election process.
The Union Minister for Food Processing, Prof Chaman Lal Gupta, too condemned the terrorist strikes and said the security forces need to be given the green light for carrying out operations against the terrorists on a massive scale. He called for the strengthening of the village defence committees by equipping them with sophisticated weapons.
Various Sikh organisations, including the AISSF and the Youth Akali Dal, condemned the massacre.
Mr Mohinder Singh of Bhai Kanhiya Nishkam Sewa Society urged the Government of India to use the forces deployed along the border for destroying militant training camps.
A large number of Sikh workers belonging to the BJP demanded that India should prevail upon the US Government to change its "dual policy."
Various leaders from Udhampur demanded strong action against the militants. A bandh was also observed at Reasi, Katra, Ramnagar and Chaneni.