SIGHT & SOUND
Good ole radio makes a comeback
Amita Malik
ONE of the greatest advantages of radio, as against TV, is its portability. You can sneak a small transistor radio into office and keep it hidden under your table to listen clandestinely to a cricket commentary, but cannot smuggle in a TV set under the nose of the boss. Radio news can travel faster than TV if the cameras are not already there. And, in recent times, I have found the car radio a great asset. Nowadays, when crises develop by the hour, and there is alarming talk of war, one can switch on the FM and other normal channels in the car while driving and get the latest news without taking one's hands off the steering wheel and endangering your life, as happens with cellular phones. I also find that apart from the professionalism of AIR, which is far ahead of Doordarshan's, the competition from private sector FM channels, which have been there for some time, although erratically, AIR's FM channels have younger, less conservative people who have revved up its tempo and style. They are perky, but not too perky like their counterparts in TV and some of radio's Agony Aunts speak far more horse-sense when giving advice.
I have mentioned radio this week because I repeat, I have found the car radio a great asset when driving or the transistor a great boon when I am cooking and sometimes one even gets useful items about traffic, but not even half as much as one should. So don't drive home at reckless speeds to catch up with what's happening in Gujarat or Kashmir. Just switch on the car radio.
And while I am about it, let me make a long overdue mention of the mini museum on the history of broadcasting in India, which AIR has set up in Broadcasting House in Delhi, which, in a small room, has fitted in a wide range of memorabilia, from rare and valuable photographs to the older technical gadgets used in broadcasting, from microphones to turn-tables. The rare photos from its archives and also from newspapers and other sources, the documents and people which made radio history in the early days, from top musicians to those leaders who took over from the British after Independence and made full use of radio to project their thoughts as well as make important announcements, are all there.
As someone who started life as a student in AIR, I found it stirred not only nostalgic memories but great pride in the pioneers, who were dedicated people and looked on radio as a vocation of national importance. It was Mahatma Gandhi who described radio as Shakti and his words about letting the culture of all nations flow through its portals greet the visitor as he enters Broadcasting House. I am not sure the Museum is open to the public. If not, there should be particular days earmarked for them, because it cannot be an open house as Broadcasting House is a top security area. Or, better still, the museum should move to a larger and more public situation to make it accessible to students, researchers and the general public.
AIR and radio generally have played a great role in India's national life, getting foreign stations has never been a great problem as it is in TV, and it is time AIR, the faithful wife, got a position of pride and dignity as against the younger and more brash sexpot, Doordarshan and the rest. Perhaps another reason radio is more kind on the senses is that it does not show the horrors of, for instance, Gujarat or the weeping relatives of Abdul Ghani Lone in such detail. One sometimes needs a respite from such graphic horror.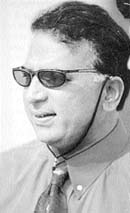 Sunil Gavaskar
TAIL-PIECE: Luckily, there is always something cheering and uplifting to relieve unrelenting horror on the small screens around the world. I have found watching the lovable and expressive cricketing crowds in the West Indies most endearing. For them, cricket is a long picnic, an occasion to sing, dance, wear fancy clothes, sip green coconut water, cook and eat delicious food on the spot. Who else would dedicate a whole song to Sunil Gavaskar, who made I think seven of his centuries in the West Indies. The crowds were not only scrupulously fair when the Indians did something spectacular. They even persuaded Gavaskar to dance with the crowds, while a charming young woman, backed by a whole crowd of West Indian beauties, said smilingly into the cameras. "We love Gavaskar. He still remains very peppy." Well, so say all of us and wish we could be as peppy as those lovely Jamaican women, the women among the cricket watchers surely being more numerous, evident, knowledgeable and extrovert than in any other country from where we have watched cricket. Women of the West Indies, we salute you, not only for your love of cricket but your shining love for India.