Friday, May 24, 2002, Chandigarh, India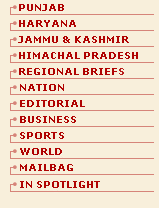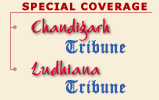 Faridabad Cong leader shot dead
Faridabad, May 23
A prominent Congress leader of the district, Mr Amarjeet Singh, (42), was shot dead by three unidentified assailants near his house in Sector-17 here this morning.
Delhi's rich hog more power than the poor
New Delhi, May 23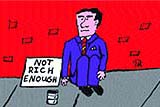 Two top Delhi-based Government of India officials until recently owed Rs 25 lakh to the Delhi Vidyut Board. Two Government of NCT of Delhi officials also enjoyed the distinction of being in the DVB net. A "top" politician's son-in-law owed Rs 23 lakh to the DVB.


Rajpath sports a scrubbed -to-the- bone look after a sudden downpour in the Capital on Thursday.
— Tribune Photo Mukesh Aggarwal
Fiery May: Five die in Shakurpur blaze
May 23, 2002
Gurgaon industry 'held to ransom'
May 22, 2002
BJP's turn to be sore with Akalis
May 21, 2002
DVB bidders may get sops
May 20, 2002
Builder takes his cut, turns back on Gnida dues
May 19, 2002
Four cops being held hostage
May 18, 2002
Two die in yet another market fire
May 17, 2002
A trickle in taps but tankers overflowing with water
May 16, 2002
Akalis biting off more than they can chew?
May 15, 2002
Gurdwara polls at last, on June 30
May 14, 2002