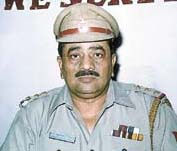 THE ACHIEVERS
This man stands by others through fire and water
Noida, May 24
For Amar Kumar Aggarwal, in charge of the Noida fire brigade unit, every day is a challenge as the city has grown tremendously with high-rise buildings and commercial complexes but the fire-fighting infrastructure has remained static over the last two decades.
'ISI agents' arrested in Bulandshahar
Noida
The Bulandshahar police arrested two alleged ISI agents from Syana on Thursday night on the basis of inquiries made by the military intelligence.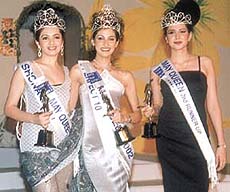 Winners of the May Queen 2002 beauty pageant organised at the DSOI grounds in the Capital recently.
DELHI DIGEST
CNG supply to improve by 2004
New Delhi, May 24
The supply of Compressed Natural Gas (CNG) to Delhi will increase after the Liquefied Natural Gas (LNG) terminal being set up in Dahej, Gujarat, commences operations in December 2003.
Cong 'reneging' on promises

Gallery on maritime history
Rewari loses a true-blue Gandhian and social activist
Rewari, May 24
Mr Prem Swarup Data, who virtually dominated the socio-political-commercial domains in the Rewari region for six long decades, is no more. Fate abruptly snatched him away after he sustained a head injury in a road accident here on May 18 at the age 75 when his sober guidance mingled with richness of experience was at its zenith.


Cafes gear up for online results
New Delhi, May 24
With barely a day left for the announcement of the CBSE class XII results, cyber cafes across the city are in a state of readiness to meet the demand for online results.
NCR BRIEFS
Milk vendor 'stoned' to death in Silani Gate
Jhajjar, May 24
A milk vendor was reportedly stoned to death by eight persons near Silani Gate here today. According to information, the deceased, Paramjeet Gurjer had gone to the market late Thursday evening. However, he was found dead lying in a pool of blood outside the shop of one Ramphal in the morning. The scene at the spot indicated that his body was dragged after being killed.
Three assaulted

Worker killed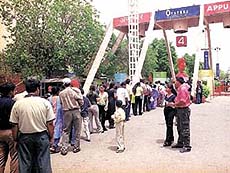 Visitors flock to the Appu Ghar water park, Oysters, to beat the heat. — Tribune Photo
Police network has collapsed: Ex-minister
Rohtak, May 24
Claiming that the police network has virtually collapsed in the state, a former minister, Mr Krishan Murti Hooda, appealed to the Chief Minister, Mr Om Prakash Chautala, to reorganise the police force so as to instil a sense of security among the masses. The former minister alleged that the crime graph had displayed a steep rise during the past few months in the region.



SO, finally it has come. The blow has been struck. The bus, taxi and auto fares in Delhi have been increased. The common man, who depends on buses alone, will alone pay the price for ensuring "clean air". But for the poor, it is the double-edged sword: he is being forced to pay high price and at the same time, he is being deprived of sufficient number of public buses, the only source of his travel for reaching the place of work and home.

DO YOU HAVE A GROUSE?

Do you have a grouse against the apathetic attitude of the authorities? Are you fed up with the dilly-dallying tactics of officialdom and the stranglehold of red tapism? If so, please write to us. We have a full half page every week reserved just for you. The letters should be clearly marked, Speaking out, NCR Tribune, First Floor, Dyal Singh Library Building, 1 Deen Dayal Upadhaya Marg, New Delhi-110002.

'Quality education'

Antiques gather dust