M A I N N E W S
Locker of Langah's wife opened
Jewellery weighing 1.25 kg recovered
Varinder Walia and Ashok Sethi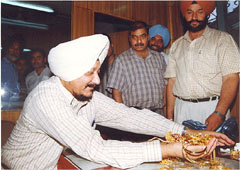 Vigilance sleuth shows jewellery items recovered from a bank locker belonging to Harbhajan Kaur at Batala on Saturday. — photo Rajiv Sharma
Batala, May 25
A bank locker of Harbhajan Kaur, wife of beleaguered Sucha Singh Langah, former Akali Minister, was broken by sleuths of the Vigilance Department, led by Mr T.P. Singh Sandhu, Superintendent, along with the DSP, Mr Rashpal Singh, here today.
The jewellery items weighing 1.25 kg recovered from the locker (opened in the presence of an Executive Magistrate) included 29 gold rings, six gold chains along with a locket, 10 bangles, eight bracelets, five gold coins, two more bracelet sets, five necklace sets, nine earrings etc.
After day-long investigation of the accounts of various banks, the Vigilance Bureau came to know that wife of the former minister had closed the bank account (No. 20431) in Punjab National Bank on March 13 by withdrawing Rs 19.60 lakh. The same day, she opened another account in the same bank and kept jewellery weighing 1.25 kg in a locker there. The jewellery seemed to be gifted to her by those seeking favours. The sleuths also found that two accounts were opened in the Oriental Bank of Commerce (Amritsar) in the name of Mr Langah and his wife. A sum of Rs 5 lakh was deposited by Mr Langah and his wife each in the accounts.
The Vigilance Bureau has reportedly came to know that Mr Langah owned 3,000 yards of prime commercial land worth over Rs 5 crore at Amritsar. However, the SP (Vigilance), Mr T.P. Singh Sandhu, refused to divulge the details on the plea that revenue record was being verified.
The total transaction by the couple ran up to the extent of Rs 38 lakh in their accounts at the banks here and Amritsar. The SP (Vigilance) said the bureau was contemplating to write to all banks in the state seeking their help in uncovering the unaccounted money and jewellery deposited by the family. Sources in the bureau said the seizure made today was just a tip of the iceberg.
The bureau had booked Mr Sucha Singh Langah on May 16 for possessing assets disproportionate to his known sources of income and he was directed to surrender by May 25.