Qazi favours dialogue
Meets Geelani before leaving for Pak
Tribune News Service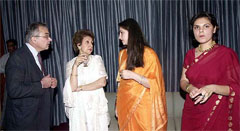 Pakistani High Commissioner to India Ashraf Jehangir Qazi with his wife and daughters at a reception hosted by him in New Delhi recently.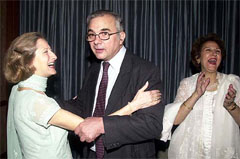 Ashraf Jehangir Qazi shares a joke with Susan Bggs from US embassy, while Mrs Qazi laughs at a reception hosted by him in New Delhi recently. — PTI photo
Wagah/Rajasansi, May 25
Amid reports of Pakistan test-firing its medium-range Ghauri missile, expelled Pakistan High Commissioner to India Ashraf Jehangir Qazi crossed over to his country through the iron gates of the Wagah joint checkpost today.
Emotions ran high even as the High Commissioner, who was directed on May 18 to leave the country within a week after the Kaluchak carnage, said he was personally disappointed and regretted the decision of the Government of India, which would close diplomatic channels as the standoff continued between the two neighbours. Before bidding farewell to India, where he had spent more than five years, Mr Qazi looked sad at his sudden expulsion.
Talking to newspersons at the Rajasansi airport after arriving from Delhi along with his mother, Jennifer Qazi by a regular Indian Airlines flight, Mr Qazi was reminiscent of his eventful tenure in India. He said he would miss thousands of friends and well-wishers who had made his stay a wonderful experience.
Mr Qazi articulated a purposeful dialogue to resolve the issue of Kashmir along with other pending agenda items to defuse the tension building up at both sides of the border. The former High Commissioner suggested that India accept the offer of Pakistan President Pervez Musharraf for meaningful talks without any precondition. He stressed the need for setting up a proper agenda which would cover all pending issues and not rake up irritants.
Asked about the failure of the Pakistan government to curb the activities of jehadis, operating from its soil, Mr Qazi could not give a credible reply. He admitted that the government had released the top-ranking jehadi leaders after their three-month detention as charges could not be framed against them. Pakistan had banned the activities of such terrorist outfits, frozen their bank accounts and restrained them from issuing provocative statements in support of Kashmiri militants, he claimed.
"The world has fully backed Pakistan's commitment to stamp out terrorism and it is considered the most valiant country in the coalition against the menace of terrorism", Mr Qazi claimed. Replying to another question, he said Pakistan was a victim of terrorism, but had now resolved to put up a strong fight against radical groups which were endeavouring to destabilise the world. He asked India to believe in Pakistan's 'sincere attempt' for creating peaceful atmosphere in the subcontinent.
The coercive diplomacy and the development of Army on the international border by India would not create the right atmosphere, but would escalate tension, he opined. India and Pakistan were engaged in artillery duels across the border, which had resulted in migration from the region, causing immense misery to the people, he rued.
On India's charges of abetting cross-border terrorism in Kashmir, the former High Commissioner pointed out that the Kashmiris were fighting for self-determination and Pakistan was not involved. He said India was unable to provide credible evidence about sheltering of India's 20 most wanted terrorists by Pakistan and hence there was no question of Pakistan accepting India's contention in this regard.
Answering question about third-party intervention to resolve the deadlock between India and Pakistan, Mr Qazi said Pakistan would have no objection if the UN or any country agreeable to both sorted out the five-decade dispute. He said since India and Pakistan were nuclear-weapon countries, it was imperative that they show extreme caution and restrain in their belligerent relations to ward off any catastrophic fallout in view of the current tension.
On the Indus Water Treaty, Mr Qazi appreciated the maturity shown by India by not calling off the proposed meeting to be held on May 28 in Delhi although India had earlier threatened to cancel the same in view of the Kaluchak massacre.
Answering a question on the testfiring of Ghauri by Pakistan today, he said it was within their right to do so as India had been doing the same from time to time, admitting that this would escalate an arms race in the subcontinent.
NEW DELHI: The expelled Pakistani envoy Ashraf Jahangir Qazi crossed over to his country on Saturday from the Wagah border in Amritsar, but not before meeting the hawkish Hurriyat Conference leader Syed Ali Shah Geelani.
Mr Geelani was with Qazi for 90 minutes. He called on the former High Commissioner at his Tilak Marg residence early in the morning.