Monday, May 27, 2002
Article
Self-paced and explorative, e-learning is here to stay
Rajiv Kapoor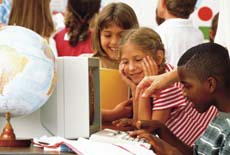 WE are currently in a transition period when, the academicians have started reviewing the teaching and learning methodologies. In the present system, a specified space, equipment, tools, costly software and teachers are required. Our country is a developing country and reducing the cost and upgrading the quality of teaching and learning is the priority. Opening of a large number of technical institutions in every state of India is leading to extra cost factor, which is ultimately borne by the common person.
The setting up of new institutions to meet the demand for technical professionals has not led to any improvement in quality. Hence, it is extremely important to find out the new way of learning. Any service provided due to application of IT generally starts with a key-character 'e', hence, let it be named as e-learning. Ideally, the new mode of learning should provide the following:
a) Education to everybody.
b) Quality education.
c) Online books/literature facility.
d) Online consultation sessions.
e) Online examination.
f) Admission for all and at any moment.
g) Practice based learning.