10 Pak soldiers killed
Tribune News Service and agencies
Jammu, May 26
Indian troops destroyed more than 15 Pak bunkers and killed 10 soldiers across the R.S. Pora, Hiranagar, Samba and Sunderbani areas of Rajouri after five civilians, including a woman and two children, were killed in Pak shelling in R.S. Pora sector today.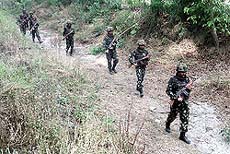 Army jawans patrol near the Indo-Pak border in Jammu on Sunday.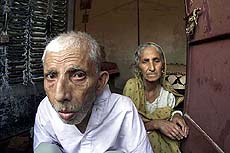 Elderly persons at a migrant camp in Jammu on Sunday. ó PTI photos
According to the police, several villages, including Begha and Karotna in R.S. Pora, were pounded by the Pak shelling in which several residential houses were destroyed, and five civilians killed and 10 wounded. The Pak troops resorted to heavy firing and shelling from across Hiranagar, Samba and Ramgarh.
The Indian troops repulsed the attack across these sectors and across the Sunderbani area in Rajouri and destroyed 15 Pak bunkers in which 10 Pak soldiers were killed and several others wounded.
A Defence Ministry source said the Pak troops had started evacuating civilians from border villages and so far 2,000 villages had been brought under control of the Pak forces where heavy weaponry was being kept.
The source said as a result of heavy firing, more than 200 families from eight villages in the Ramgarh sector fled to safer areas, raising the total migration from the border villages in Poonch, Samba, Rajouri, Akhnoor and R.S. Pora to over 22,000.
The villages affected by the heavy Pak shelling and firing included Londi, Regaal, Jabowal, Pansar, Chilla and Mango Chak in the R.S. Pora and Samba sectors.
The source said Pakistan had brought about 2,000 militants in small groups on the launching pads across Poonch, Rajouri, Akhnoor, Uri, Kupwara and the recent escalation in the Pak firing and shelling was the result of Islamabadís keeness to push as many militants as possible into Jammu and Kashmir.
The source said three of the five Indian civilians killed in the Pakistan firing were identified as Bachan Lal of Karotna village and a brother and sister identified as Nazir and Kuchian Begam of Bega village.
Two minor daughters of Taro Gujjar of Bega village were also killed in the incident.