Wednesday, May 29, 2002, Chandigarh, India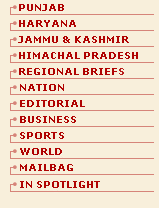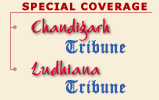 M A I N N E W S
Vajpayee's 'busy' holiday ends
Our Correspondent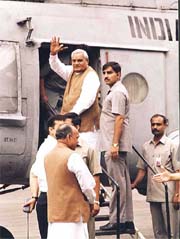 Prime Minister Atal Behari Vajpayee waves to media before his departure for Delhi after spending holidays at Manali in Himachal Pradesh on Tuesday. — PTI photo

Manali, May 28
The Prime Minister, Mr Atal Behari Vajpayee, today left for Delhi after his five-day sojourn at Prini, 4 km from here on the Manali-Naggar road. He refrained from commenting on the Pakistan President, Gen Pervez Musharraf's address to his nation last night. Mr Vajpayee cut short his visit and returned to Delhi a day earlier.

Before boarding the Indian Air Force helicopter at the Snow and Avalanche Study Establishment (SASE) helipad, Mr Vajpayee told the electronic media, "I like Manali and will come here again, and I am thankful to the

Himachal Government".

According to sources, it was hardly a holiday for the Prime Minister. He spent most of his time at his farmhouse at Prini clearing files sent from Delhi and having discussions on the telephone with world and national leaders on the Indo-Pak border tension.

He reportedly held discussions with the Chief Minister, Mr Prem Kumar Dhumal, on the state's problems and the Assembly elections scheduled for February next.

The Prime Minister is expected to visit Prini for a holiday in June or July if the border situation permits. Mr Vajpayee's foster family, which has been here for a couple of weeks, may stay on for another fortnight.

Prominent among those who were present at the SASE helipad were the Chief Minister, the Governor, Dr Suraj Bhan, Thakur Chander Sen, local MLA, the Parliament Secretary, Ms Urmil Thakur and Mr Parveen Fakey, President, Nagar Panchayat, Manali.

Mr Vajpayee was accompanied by the Chief Minister and the Governor to the Bhuntar airport from where he boarded a flight to Delhi.