35 years of calculators
G.V. Joshi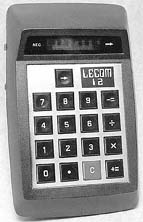 THE year 2002 is the 35th anniversary of the first hand-held or pocket electronic calculator. If was created in 1967 by Dr Jack Kilby, an electronic wizard working at the internationally well known company Texas Instruments based at Dallast in Texas, USA.
It was a simple machine that could add, subtract, multiply and divide, just like more sophisticated mechanical calculators made by Burroughs and Facit, available then, but much faster and without cranking a handle.
The calculators were also called as adding machines earlier. The hand-held electronic calculator threw out the abacus used by small businessmen in China and Japan and the slide-rule used by scientist and engineers.
The abacus may be called the first hand-held calculator. It was invented between 500 BC and 2300 BC. The origin is uncertain. The Chinese call it Suanpan. They were used in China, Japan and Russia well up to the middle of this century.
It is said that the Russians used an abacus to perform some of the intricate calculations for the launch of Sputnik I, the first satellite, launched into space to orbit around Earth on October 4, 1957.
Shortly after the invention of logarithms by Napier in 1614, Edmund Gunther plotted them on a 60-cm long wooden strips. In 1622, William Oughtred joined them together to create the first slide-rule.

A slide-rule is a computer that imitates a calculation by representing number with lengths. It is possible to multiply, divide, and even perform more complex calculations with a slide-rule.
However, it could not compete with an electronic calculator in speed of handling as well as the accuracy of results. They fell out of use after the introduction of electronic calculators.
Most of the engineers and scientists, who graduated in the 1960s and earlier, had a slide-rule, and the best model coveted by all was Aristo Studio. Many of them are preserving them as mementos.
The first mechanical calculator was made by the mathematician Blaise Pascal. It used gears to add a column of up to eight figures. It was expensive to built and maintain and none were ever sold.
The difference Engine conceived by Charles Babbage was not built in full. But it showed how calculations more complex than simple addition, subtraction, multiplication and division could be handled mechanically.
Using the principles of Babble's difference Engine, scientists at International Business Machines (IBM) created the first electromechanical computer, the Automatic Sequence Controlled Calculator in 1944. But it occupied a whole room.
In 1946, the first computer, the Electronic Numerical, Integrator and Computer (ENIAC) was ready. But it used thousands of electronic valves, resistors, condensers and switches. It was housed in a 10m x 15m room and weighed several tonnes. Transistors invented in 1947, brought down the size of computers but a pocket electronic calculator was still far away.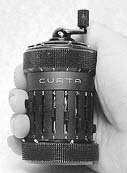 The idea of a hand-held calculator followed the invention of an integrated circuit (IC), the chip in electronic jargon. It was conceived by electronic wizards like Geoffrey Dummer, a British computer engineer, Jack Kilby of Texas Instruments and Robert Noyce of Intel who also invented the process of making an IC. Integrated circuits were followed by a microprocessor — computer on a chip.
In 1967, Texas Instruments came out with their first hand-held calculator. The machine was only a little more powerful than its mechanical forefathers were. Since then many other companies have entered the field, manufacturing better and better hand-held calculators, which can carry out all scientific and mathematical computations.
Hewelett Packard (HP) introduced the first hand-held calculator in 1972. Japanese were not far behind. Casio is well-known name in the field of pocket calculators.
Most hand-held calculators have a display of both the entries as well as results. Earlier there were red or green displays, but today black display has taken over. Black displays (liquid crystal display) consume very little electricity and the batteries, therefore, last much longer.
One type of electronic calculator can handle complicated tasks similar to those done by personal computers. Such a calculator is called a programmable calculator. HP introduced their programmable hand-held calculator in 1974. Casio also makes programmable calculators and pocketbook size personal computers with about 10 kilobytes memory.
Today's hand held-electronic scientific calculators can perform a wide range of complex scientific and mathematical computations. They can also draw graphs. Thousands of students studying mathematics at high school stage and above use them in schools and colleges. The hand held calculators were followed by desk calculators who could also print out the entries and the results.
The worldwide sale of hand-held and desk calculators was highest in 1989 at 62 million units. The sales have gone down slightly now due to introduction of personal, laptop and palmtop computer, which also carry programmes for scientific and engineering calculations.
Pocket calculators are not made in India by a number of electronics industries. Dr Kilby, who has about 60 patents to his name, was awarded half of the Nobel Prize for Physics for the year 2000. He was cited for work that paved the way for computers.
Kilby showed how it was possible to combine large numbers of electronic components on to a single slice of silicon. This was the first integrated circuit, the precursor of devices like the Pentium chip in today's computers.
Dr Kilby conceived and built the first electronic circuit in which all of the components, both active and passive, were fabricated in a single piece of semiconductor material half the size of a paper clip. the successful laboratory demonstration of his first simple microchip on September 12, 1958, made history.