Harpal Tiwana died on May 19
Punjabi theatre loses a star
Pritam Saini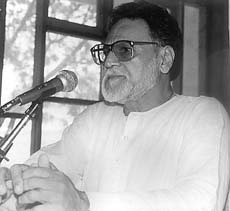 Harpal Tiwana
WITH the death of Harpal Tiwana, Punjab has lost a bright star in its theatre and film firmament. Born in 1935, Harpal was the son of the late Jagir Singh Tiwana, the famous hockey player of Punjab, who was also a distinguished police officer of Patiala state and a poet of the Urdu language. Harpal was studying in MA (English) at Government College, Ludhiana, when he got admission to the National School of Drama, Delhi. He was the first Punjabi student to join this course scholarship from the Punjab Government of late Partap Singh Kairon.
There he learnt the art of acting and directing under the guidance of E.Alkazi, world renowned teacher of drama. Like his teacher, Harpal too earned fame by staging plays in many states of India and in foreign countries like Canada, Russia, America, England, Lebanon, Kuwait, Italy, Tunisia, Algeria, Iraq, Syria and Jordan. Apart from social plays, he staged dramas related to the Sikh history, like Dr Harcharan Singh's "Hind di Chadar" and "Chamkaur di Garhi" etc.
He produced and directed some Punjabi films. Among them, "Laung da Lishkara" and "Diva Bale Saari Raat" were very successful. "Laung..." was also written by him. This film, free from the vulgarity generally ascribed to Punjabi films, proved to be a box-office hit. It ran for 24 weeks and 25 weeks at Amritsar and Ludhiana, respectively. It was also shown to Indian and French film-goers with sub-titles in Hindi and French. Its cast included Raj Babbar, Om Puri, Mehar Mittal, Nina Tiwana, Nirmal Rishi, Gurdas Maan, Harpreet Deol, Sukhvinder Sohi and introduced Harpal Tiwana's son Manpal and daughter Luna.
"Diva Bale Saari Raat" depicted the social problem of a Muslim family. Its cast included Girja Shankar, Preeti Sapru, Nina Tiwana, Nirmal Rishi, Mehar Mittal and Harpal Tiwana himself.
In film-making, Harpal was influenced by D.W. Griffith and Elia Kazan.
"Sanjhi Diwar" is Harpal's first Hindi telefilm based on Santokh Singh Dheer's famous Punjabi short story "Sanjhi Kandh". Harpal Tiwana played the lead role of an elder brother in it. Dealing with a family feud, the film depicts the rural life in Punjab in its various aspects. It was telecast on the National Programme of Delhi Doordarshan.
Another job that Harpal took upon himself was to teach the new generations the techniques of drama and film. For this purpose, he had turned his residence (Jagir Estate) into a vast play-house and film studio equipped with the necessary apparatus. He taught his pupils stage and screen acting, direction and script writing. His wife Nina Tiwana assisted him in all this. His fondness for Punjabi culture is revealed to his visitors at home. His 'play-house' is not decorated with modern and sophisticated paraphernalia but with relics of an old Punjabi village life, like a cartwheel and churning pot etc. In this field, he was influenced by Dr M.S. Randhawa.
The list of his pupils is very long. It includes stalwarts of the Indian film screen Raj Babbar, Om Puri and Girja Shankar along with Desh Gautam, Nirmal Rishi, Sukhvinder Sohi, Mahindra Sandhu, Deepak Seth, Sailesh Prabhakar, Kuldeep Singh, Gurdeep Chauhan and many others.
He was very busy during his last days. After having staged the popular play "Ik Akkh, Ik Nazar" (related to Maharaja Ranjit Singh's life and exploits) not only in his native land but also in England, Canada and America, he was turning the same into a movie now. The play is written by Kartar Singh Duggal, sponsored by the Department of Cultural Affairs Punjab and staged by Harpal Tiwana's Punjabi Folk Theatre International (Regd). It was in connection with the shooting of this movie that he visited Palampur, Himachal Pradesh, and was involved in the fatal accident on the Jwalamukhi-Hoshiarpur road on May 19, 2002. He died at the spot along with an actress, Harpreet Kaur. His other two male companions sustained serious injuries.
His family, fans, pupils and the film and drama-loving public will miss this ever-smiling and dynamic personality. He had a discerning eye, high-pitched voice, heart of gold and zeal for living a happy and useful life.
He was awarded the title of Shiromani Film and Theatre Artiste by the Language Department, Punjab, and then became a member of its Advisory Committee.
He propagated the message of love, sympathy and unity in the world torn by hate, violence and sectarian trends.