IN PASSING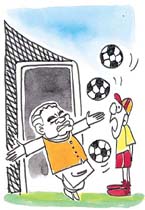 I only know how to save a goal if there is one ball !

by Sandeep Joshi
PPSC case: Trivedi to defend Punjab
Chandigarh, May 30
Additional Solicitor-General R.N Trivedi, along with an advocate, were today flown in for defending the Punjab Government's stand in the PPSC recruitment scam even though Advocate-General Harbhagwan Singh had been appearing on behalf of the state till now and Punjab has a strong team of over 90 law officers "capable of arguing such cases".
Docs absent at border clinics
Amritsar, May 30
The sub-health centre, Cheema Khurd, was found locked when vigilance sleuths conducted raids at the primary health centres and SHCs in the border districts of Amritsar and Gurdaspur recently.


BKU blocks roads leading to Jind
Gulkoni (Jind), May 30
Jind district is reeling under the call given by the BKU yesterday to block Haryana roads.
Grieving wife, daughter and son of Rajbeer Singh who was killed in police firing at Gulkani village of Jind district on Thursday.
— Tribune photo Pankaj Sharma
Stop terrorism, says UK
May 30, 2002

Pak 'epicentre' of terrorism
May 29, 2002
Pak not exporting terror
May 28, 2002
Fulfil pledge, PM tells Pervez
May 27, 2002
Pak test-fires Ghauri
May 26, 2002
Time not ripe for war: Congress
May 25, 2002
We won't allow Pak's proxy war: Vajpayee
May 24, 2002
PPSC scam probe: glaring gaps, 31 'missing' names
May 23, 2002
Six more Pak soldiers killed
May 22, 2002
Six Pak troops killed
May 21, 2002

Paramilitary forces on LoC, border under Army control
May 20, 2002

Pak told to recall High Commissioner
May 19, 2002

Nation committed to end Pak-backed terrorism
May 18, 2002