THE TRIBUNE MAGAZINES
On Mondays

On Sundays
On Saturdays

IN PASSING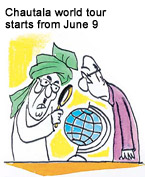 Find out if there are kisan unions in the countries that I am visiting.

by Sandeep Joshi
Siddiqui likely to head Vigilance Bureau
Chandigarh, May 31
The decks have been cleared for the return of Dr A.A. Siddiqui, an IPS officer of the 1968 batch, to his parent cadre of Punjab amidst speculation on his posting as the head of the Vigilance Bureau. Dr Siddiqui went on inter-state deputation to head the Manipur police last year.
Kant eyes top post, seeks Naidu's help
New Delhi, May 31
The issue of evolving a consensus on who should be the next occupant of Rashtrapati Bhavan hangs by a slender thread and depends largely on whether incumbent President K.R. Narayanan is willing to throw his hat in the ring for a second term.

NDA decision decried


Madhok also in race
4 more farmers die in firing
Chandigarh, May 31
Four more farmers died today in police firing in Gulkani village on the Jind-Hansi road in Jind district where farmers clashed with a large police party which had arrived to clear the barriers set up by the farmers on the road in response to Bharatiya Kisan Union call to block the Haryana roads in protest against incarceration of BKU members by the state government.


PSIDC in debt snarl
Standing dues touch Rs 1050 cr
Chandigarh, May 31
The Punjab State Industrial Development Corporation is in a debt-trap of its own creation. Once considered as the harbinger of industrial and economic development, today it is finding it difficult to get out of the snarl. This has become obvious from the presentation made by its Managing Director, Mr Viswajeet Khanna, to the Chief Minister, Capt Amarinder Singh, last week.
Heavy shelling by Pak
May 31, 2002

Stop terrorism, says UK
May 30, 2002

Pak 'epicentre' of terrorism
May 29, 2002
Pak not exporting terror
May 28, 2002
Fulfil pledge, PM tells Pervez
May 27, 2002
Pak test-fires Ghauri
May 26, 2002
Time not ripe for war: Congress
May 25, 2002
We won't allow Pak's proxy war: Vajpayee
May 24, 2002
PPSC scam probe: glaring gaps, 31 'missing' names
May 23, 2002
Six more Pak soldiers killed
May 22, 2002