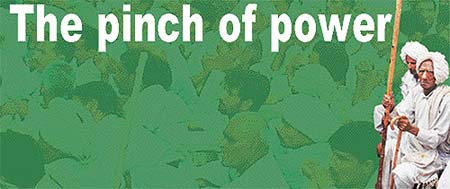 The stand-off between the BKU and the Chautala government at Kandela is a manifestation of broken promises and unrealised expectations, however misplaced they may be. It is an irony that the farmers are agitating against a regime that is considered to be the most farmer-friendly ever. It came to power because of its rural roots. Y.P. Gupta analyses the crisis and says it foretells dangerous consequences.
Paying bills is not the issue, regular power supply is: Nain
Shubhadeep Choudhury
GHASI Ram Nain, aged 70 plus and sporting a flowing white beard, does not exactly look like the terrorist that the Haryana government has made him out to be. Rather, he looks like a village elder who knows the ways of the world.
Combating the menace of stray dogs
Aditi Tandon
NEVER before have stray dogs posed so much danger. In the light of the recent cases of dog bite reported from Chandigarh and Punjab, it becomes essential to determine the causes leading to an increase in the incidence of dog bite in the region.
Unique parrot on the verge of extinction
Piyush Pachak
ONE among the many varieties of parrots is the Hiraman Parrot. This parrot speaks in a sweet tone and at times its voice sounds amazingly human. This variety of parrot, known as the Alexandrine parrot, is found in the Gagron Fort area of Jhalawar district in Rajasthan, and is consequently also known as Gagroni parrot.
The call of Kasauli
Baljit Malik
BELIEVE it or not, with each passing year, Kasauli is becoming less sought after as a pristine hill station. This year in May its blue skies, too, have disappeared. No longer does its air act as a filter against asthma and other chronic diseases of the upper respiratory tract.