The female voice in folklore
Usha Bande
"In all thy humours, whether grave or mellow,
Thou'rt such a touchy, testy, pleasant fellow;
Hast so much wit, and mirth, and spleen about thee,
There is no living with thee nor without thee." — Joseph Addison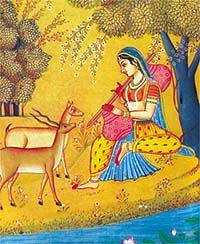 Lyrics help women to express their inner-most thoughts

WIT, humour and repartee are the best ways to diffuse anger, enliven the atmosphere and relieve tension. "Laughter", said a wit, "is the best medicine without side effect."
Men often allege that women in general lack sense of humour; they have no wit, nor the ability to repartee.
In the field of literature, women's writing is generally dubbed as "that sentimental stuff", which may express anger or show aggression but never a streak of light-heartedness that may produce a chuckle or two. It is because, men contend, women can be the subject of humour but never its creator. Nothing can be farther from the truth. One just has to have a look at women's folk songs to understand the subtle sense of humour with which they have learnt over the centuries to resist ill treatment, subjugation and the dominant discourse.
Folk songs have a vast reservoir of humour generated from everyday observations, the stress and strains of life, its tears and laughter. Women's cloistered in existence so far has had its moments of fun and frolic when they gathered for some ceremony and experienced sense of freedom for a couple of hours. It is then that their songs and dances gather momentum; the juxtaposition of true-untrue situations and the humorous portrayal of the in-laws spread much mirth and cheer. These songs or tales have evolved over the years, subtle modes of resistance to hegemonic forms of traditional hierarchy.
Punjabis have a robust sense of humour and their women folk do not lag behind the men. Giddha is a lively, all-woman performance popular the state. The Giddha verses, called Bolian, have been the best way through which girls and women have flung humour at their husbands, in-laws and others. The verses sung with pleasant and vigorous dancing steps bring out the whims and fancies of the mother-in-law, the eccentricities of the father-in-law, the peculiarities of the husband, and as the other girls/women pick up singing they all enjoy the picture which could not have been much different from what they have known or experienced. Each singer has a short tale of woe to tell or it could be an account of a mischief played to avenge a reproach, as in the following couplet:
Chaulan da pani ni main buey wich doliyan,
Anda-janda phisla gaya,
nikal gaya ni meri rondi da hansa,
nikal gaya ni meri rondi da hansa
(I threw the water of the half-cooked rice near the threshold and saw passersby slipping and falling. I could not help laughing despite my tears). Obviously, the girl was unhappy, may be she was weeping over some bitter words. But she found a way to take revenge. It is crude but the discomfiture of her in-laws' family delights her.
After marriage a girl becomes the "other" for her natal family but the ties cannot be severed. She visualises all that is good, desirable, and even imperial to belong to her parental family, all that is bad or beggarly describes her in-laws' family. In one of the Marathi folk songs, the 'vaid' who comes with a message from her parents is described as richly clad, showing not only their family status but also the prosperity of her native village. He is wearing gold brocaded dhoti and turban, his shoes are zari studded and he is carrying a silver plated walking stick, whereas the 'vaid' from the in-laws is clad in a dirty dhoti, torn turban and worn out shoes. This is how the newly-wed elevates herself and feels empowered as against the constant taunts of the in-laws pointing to her impoverished parents. A similar song in the Kangra region of Himachal Pradesh describes the poorly dressed messenger.
After marriage when the girl visits her natal home, she feels so happy there that she is most unwilling to go back to her husband's home. She puts it off on small pretexts. In one Giddha Boli the reason given is so flimsy and hilarious that the entire group cannot help billowing in laughter. Similarly, in a Marathi song the girl sings: "Tell them I don't want your gifts, tell them I refuse to come; Brother, unleash our ferocious and hairy dog on the fellow." This rebellious spirit produces fun and the girls singing in chorus enjoy the imaginary plight of the messenger chased by the dog. But they all are aware of the reality that one can hardly say 'no' when summoned back. Thus, by substituting imaginary pleasure for the protean reality, the song helps to dissolve tension in laughter.
The abode of the in-laws is an unpleasant place and a girl from Kangra tells her mother:
Chhalian di roti ni amma,
Khane jo dende,
Hathi dende fafru da saag,
Ammaji main naiyyu basna
They give her coarse bread to eat with a vegetable made of wild grass, so she does not wish to go.
The whims and fancies of the mother-in-law and her cruelty also become a butt of ridicule. One Giddha Boli says:
Saas meri ne dibbi bheji,
Dibbi de vich naag, Naag peya jag
Naag tan main bach gayi,
Es Gabru de bhag
(My mother-in-law sent me a box containing a serpent. Unsuspecting, when I opened the lid the serpent awoke. But I am saved because of the good fortune of my husband). In one Kangri song the woman refers to her saas as a ball of fire and her sister-in-law as the flash of lightening. A Marathi song satirises her miserly in-laws who ask her to get half-a-paisa worth of oil. How can the newly wed make such a beggarly purchase when she is loaded with ornaments given by her parents? The song makes fun of the niggardly family who use the scanty oil for a good oil-bath; somehow the remaining oil gets spilled; it starts flowing, a camel coming that way is drowned in that oil-river and an elephant has to swim across it.
In the alien atmosphere of her new home, the only succour can be the husband. But if the husband is a dumb wit or mismatched, the girl's life becomes miserable. Making fun of the situation a Giddha Boli runs thus:
Saas meri ne Kainta gadaya,
mainu kendi pa kude,
Ranzha mera loon ghotna,
pava keede chaa kude
In sum, the song satirises the mismatch when a beautiful girl married to an ungainly husband. The mother-in-law to placate her gets a fine piece of jewellery and ask her to wear it but the woman asks her friends as to what enthusiasm she has to decorate herself tied as she is to a pigmy. In a Marathi song the woman sings of her moron husband. She has no incentive to cook dainties because her husband cannot understand their worth.
To say that, women always take negative points to excite humour at the cost of their husband's household or cash in on the deformity or defect of the people around them would be erroneous. Women show the ability to spot humour even in simple everyday incidents.
In Maharashtra, there is a popular folk version in which women have to take their husband's name weaving it in a verse form rhyming at the end. These Ukhanas are always in a lighter vein and produce laughter by their ingenuity. They are simple but effectively knit into the verse form, with wit and humour.
Though not all, some of the songs represent women's voice that makes it apparent how women's oral traditions have helped them compose their own mythologies and be empowered. Women's songs and tales may not carry the authoritative versions of the traditional male canonical writing; they consistently compose ironic and subversive commentaries on their life. These folk songs are some of the ways women have derived to mock convention and the dominant discourse of patriarchy. Their narrative potency lies in their ability to satirise the surroundings without hurting directly. Humour thus becomes an effective tool of resistance.