Presidential poll on July 15
Tribune News Service
New Delhi, June 7
The much-awaited Presidential poll will be held on July 15, nine days before the term of incumbent President Kocheril Raman Narayanan ends, Chief Election Commissioner J.M. Lyngdoh announced here today.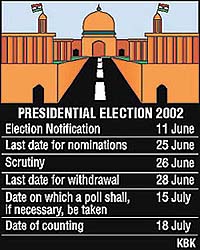 While this would be the 12th Presidential poll, the next incumbent would be the 11th President as Dr Rajendra Prasad had two terms as President.

Addressing a press conference here, Mr Lyngdoh, flanked by Election Commissioners T.S. Krishnamurthy and B.B. Tandon, announced that the poll process would commence with the issue of formal notification by the Election Commission on June 11. Counting would be held in Parliament House on July 18 after all ballot boxes were brought from state and union territory capitals.

The term of Mr Narayanan is concluding on the midnight of July 24 and the process to elect the new President has to be completed before that date.

Announcing the poll schedule, Mr Lyngdoh said the last date for filing nominations was June 25. Scrutiny would be taken up the next day. The last date for withdrawal of candidature was June 28.

Normally the duration for filing nominations was one week, but this time the Election Commission had decided to give two weeks' duration.

Rajya Sabha Secretary-General R.C. Tripathi would be the Returning Officer for the elections. The Additional Secretary and Joint Secretary of the Rajya Sabha would be the two Assistant Returning Officers in Delhi.

The commission had also decided to appoint a senior officer of the State Legislative Assembly as Assistant Returning Officer in all state capitals to make arrangements for conducting the poll and for transportation of ballot boxes and other important documents to and from the Election Commission.

Some vacancies in the Assemblies of Jammu and Kashmir (six)

and Himachal Pradesh and Gujarat (one each) were not being filled as general elections were due in the states within a year. A vacancy each in the Karnataka and Andhra Pradesh Assemblies had not been filled due to election petitions pending in courts, the CEC said.

Asked whether political parties could issue whips regarding the Presidential elections, Mr Lyngdoh said while this was an internal matter of the political parties, the Election Commission was of the view that such a whip should not be issued.

The Election Commission had notified a list of 30 polling stations in the legislative complexes of the states and also appointed 34 senior Central Government officers as its observers at the place of polling.