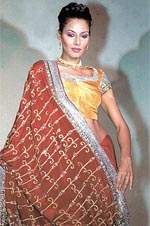 SILKEN BEAUTY: A model flaunts her dress at the 17th Export Award function of the Indian Silk Export Promotion Council in the Capital. — Tribune Photo
Sword of suspension hangs over MCF staff
Faridabad, June 7
The Municipal Corporation, Faridabad is beset by internecine differences among its employees. While three elected members have already been placed under suspension, the sword hangs on some more. The alleged infighting has led to at least three cases being filed in the Punjab and Haryana High Court.
Radio station that connects soldiers with family
New Delhi, June 7
How do you reach out to your friend, relative, neighbour or just a stranger who is braving the weather and the war in the higher reaches of Kashmir? Send them a message, courtesy Radio Indigo.
Haryana BSP spokesman resigns
Panipat, June 7
The simmering differences between the state BSP president, Mr Ashok Sherwal, and the party spokesman, Mr Rajiv Ahuja, came to the fore today with latter resigning from his post.


SPEAKING OUT
IN the report, "The fight for brilliant students: Many a school stoops to conquer" (May 30), Bijendra Ahlawat has stated that Huda in Faridabad has issued notices to about 70 public schools, which have been allegedly violating the authority's norms of allotment of land to these institutions.

NET qualification
Do we care for the court order?
Artificial scarcity
Marriage Act
Caring for the old

Farmers' debts
No sympathy
Ban on smoking
Drain needed
NCR BRIEFS
Five from Model School enter IIT portals
Rohtak, June 7
Five students of the local Model School have brought laurels to their school by getting selected for admission to the esteemed Indian Institute of Technology (IIT). Dr S. C. Singh, Principal of the school, claimed that this was for the first time in the history of Rohtak that five students from an educational institute had got selected for IIT.
Woman run over
Hike decried
Two killed

Tributes to martyr
Youth shot at
Extortionists held