The 1917 Bengali novel by Sarat chandra chatterjee has been filmed eight times — thrice in Hindi and five times in regional languages. Devdas was first made in 1928 by director Naresh C. Mitra. In 1935, P.C. Barua made a bilingual (in Hindi and Bengali) which was an enormous success. Barua played the protagonist in the Bengali version while K.L. Saigal was Devdas in the Hindi movie. Twenty years later, in 1955, Bimal Roy, who was the cameraman for both of Barua's versions, and had become an established director in his own right, remade the classic bringing fame and glory to star Dilip Kumar, thereby making him the original tragedy king of Hindi films. And now while director Sanjay Leela Bhansali (of Hum Dil De Chuke Sanam fame) is in the process of getting his magnum opus Devdas released on June 14, veteran producer-director Shakti Samanta has completed yet another, a less flashy Bengali version, within 45 days. Earlier, some years ago, Gulzar too had started the shooting of yet another Devdas with Dharmendra, Hema Malini and Sharmila Tagore in the cast. However, the project had to shelved.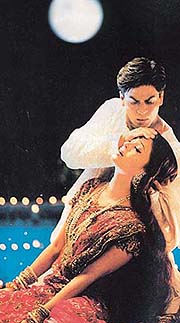 With so many Devdas films in the past and the present, comparisons are inevitable. Those of us who have read the novel (the Hindi translation) and seen at least the Dilip Kumar classic and shed buckets of tears in the process, would expect the film to be faithful to the original story. When reports of Bhansali taking liberties in the name of interpreting the story "as I see it" reach movie-lovers, one is shocked to say the least. But Bhansali only talks of presenting his "version". "It's about introspection, not imitation, in which case I could have merely distributed 100 copies of the old Devdas to everyone and forgotten about making it myself," says Bhansali, defending his highly off-the-mark product.
As Sarat Chandra's original story goes, Devdas, son of a zamindar is a sensitive soul. When he is prevented from marrying his childhood sweetheart Paro (Parvati), the poor neighbour's daughter, because of their caste-class differences, he is unable to deal with the separation. After Paro is married off to a rich, ageing widower, Devdas is sent away to Calcutta. There he meets and gets involved with a prostitute, Chandramukhi, gradually sinking into a self-pitying stupor of drink and depression. Finally, he returns home to die in front of his beloved's house.
Bhansali remembers how after Hum Dil De... when he was alone at home, for no particular reason he picked up Sarat Chandra's Devdas from his bookshelf. he was reading the book for the second time but it consumed him completely. he made up his mind that he was going to make it into a film. Cinema has always been in his blood. His father was a filmmaker who made B-grade films like the hit Lootera with Dara Singh in the lead. His father would take him and his sister to Opera House, Bombay, to watch Mughal-e-Azam again and again. And every time he would point out different nuances. "Watch the scale, the grandeur. Listen to Bade Ghulam Ali carefully," he would urge. Perhaps this was Bhansali's preparation process.
It also explains Bhansali's desire to put his creativity to use now. Once he had decided on the subject, his heart said, "Go grand." After the commercial and critical success of his last film Hum Dil De..., he had the stars and funds to make any film he chose to. He decided to make a Devdas that was "bigger, better and more spectacular than any classical movie made in Indian cinema." And sure enough he did it. And how!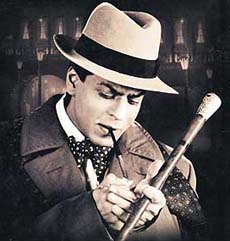 The Rs 50-crore extravaganza was funded by Bharat Shah, who, despite being in jail for allegedly abetting underworld don Chhota Shakeel's activities, wanted to fulfil his passion. Shah's family carried out his wish by providing the required funds. Even Bhansali's close friends and unit members pitched in to keep the project afloat. According to Film Information's Komal nahata, the total budget has crossed Rs 50 crore, making Devdas the most expensive Hindi film ever. Six sets were erected — the cheapest cost Rs 3 crore and the most expensive, Chandramukhi's kotha, Rs 12 crore. The last was so imposing that Maharashtra Governor P.C. Alexander requested the director of Film City to retain it as a permanent tourist spot. The kotha, a multi-dimensional set surrounded by a temple city, was inspired by Dilwara Temples in Rajasthan. Thirty lakh watts of power supplied by 42 generators to light the humongous set — the unit had to hire additional space at Film City just to park the generators. The costumes didn't come cheap either. Madhuri Dixit playing Chandramukhi has been draped in Banarasi saris, brocades and silks and each of her ensembles cost nearly Rs 15 lakh. 'Paro' Aishwarya Rai's wardrobe too is equally elaborate as both the playful beloved and the mature married woman. Although in terms of finances, the bases are covered to some extent, but the film will have to click at the domestic box office to recover its cost.
But Devdas isn't just about money spent. Bhansali has been confident enough to depart from Sarat Chandra's story. So his Devdas has Paro and Chandramukhi having a conversation about their mutual love Devdas. They even have an elaborate dance sequence together. In the novel they never meet. In Bimal Roy's Devdas there is only one instance where Paro, enacted by the beautiful Suchitra Sen, while returning to her village in a palanquin, peeps out to see a woman in a plain sari coming back from the direction of her village on foot. The woman is Chandramukhi, played by twinkle-toed Vyjayanthimala, and both watch each other without knowing who the other is. Chandramukhi's dedication is such that she has given up her showy lifestyle and adopted a simple stance.
Bhansali has presented Devdas too in a different mould. By using Shah Rukh Khan in the main role, he is bound to be influenced by the star's hyper image. Shah Rukh himself says, "I play Devdas as a metaphor, not a character. He is the juvenile, spoilt, brash element in every man. That is what is attractive about him. He is an icon of love." He says that he believes in Devdas in today's context, not the way he's etched in Sarat Chandra's novel. He couldn't have been further away from the Devdas conceived by the author. The novel presented him as a rich zamindar alright, but after he realises what he had lost when Paro gets married to an old man, he pines for her and through that longing comes forth a soulful character. The intensity of his feelings are reflected through his eyes. He is not flamboyant and certainly not `juvenile' as Shah Rukh sees him. The promos show Devdas prancing around whether running down the stairs after Paro or in a group dance with Chandramukhi and Chunnilal, the latter played by Jackie Shroff. The promos on Devdas couldn't be as far away from the original as was Asoka from the historical king. We know of Ashoka, the warrior who gave up war and embraced Buddhism, and certainly not as the lover boy as projected by director Sivan. If you tinker with the image set in the minds of people, the result can be disastrous. Asoka was rejected by audiences outright.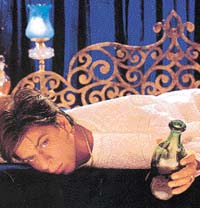 Shah Rukh says he met Dilip Kumar to seek some tips before accepting the role, but one wonders whether he could learn anything from the thespian. Shah Rukh makes it clear that they were not out to make a classic. "Classic means one of a kind and the earlier Devdas with Dilip Kumar is already a classic," he explains. Again he has gone off the mark. Several films in the West have been remade and each one turned out to be a classic. Seven Samurai was made in Japanese and then in English as The Magnificent Seven — and both were works of cinematic art. Why, even our own Sholay, which was based on it, is a landmark movie in Hindi cinema. In fact, if ever you had to see just one Hindi film in your life, this is indeed the one. Similarly, Lolita and Titanic have been remade again and again and each time as memorable films. Again our own Anarkali and Mughal-e-Azam were on the same subject — Prince Salim's passion for courtesan Anarkali— and both were classics in their own right.
Bhansali has taken further liberties. Perhaps, in keeping with his hero Shah Rukh's overseas appeal, he sends Devdas to Oxford, instead of Calcutta, for his education. And for his Oxford-returned look he has made him wear vintage suits from London. Ye gods! Sarat Chandra must be turning in his grave.
The love story itself has been made more contemporary. In the novel Devdas and Paro never ever touch each other, whereas the promos on TV and the still photographs show the two like the yuppy lovers of the modern era. Bhansali's Paro even runs to Devdas' house at night and suggests that they elope, quite contrary to the original script.
Perhaps, things went wrong with Bhansali's choice of actors. Shah Rukh Khan for all his popularity has too hyper and restless an image. His energy keeps spilling on the screen and he is too much a today's actor to play a soulful and tragic character like Devdas. Madhuri Dixit resembles Suchitra Sen too much for people to forget that she might have made a better Paro. As for ethereal Aishwarya Rai, she seems to be the director's Nandini hangover from his Hum Dil De... days.
Yet another flaw in the latest about-to-be-released film is that Bhansali seems to be bringing in the feel good factor. There is nothing outrageous in attempting yet another Devdas provided one remained faithful to the work of literature. That sense of gloom, that heavy lump in the audience's throat that arose every time Devdas Dilip Kumar spoke, the hopelessness of Chandramukhi's plight in having to face unrequitted love and the stoic acceptance and helplessness of the deeply-in-love Paro cannot be conveyed in the opulence and extravaganza of the film created by the present director. To dress up a tragedy in frills is surely making a mockery of it. Cinema as a visual medium is supposed to fill in the blanks present in the piece of fiction on which it is based. To do a complete take-off is criminal.
Earlier years ago, R.K. Narayan was livid when his novel Guide, the rights of which were sold to Vijay Anand, was mutilated beyond recognition in the film of the same name. The ending had been changed and the entire gist was lost in the song-and-dance gamut (It's another story that Guide was a super-hit film and its songs were gems). All in the name of cinematic licence!
Perhaps, the right thing could have been for the director to be inspired by the novel and make a film on similar lines, and name it, maybe, Ramdas.
But maybe we oldtimers and diehard fans of Dilip Kumar are a bit prejudiced and consider meddling with the original story criminal. Maybe the director has the poetic licence to visualise events in his own individual way. But again for most of us, the last Hindi Devdas still remains the one made by the legendary director Bimal Roy and starred colossus Dilip Kumar. How can one ever top that combination?