Making the workplace safer for women
Lopamudra Mohanty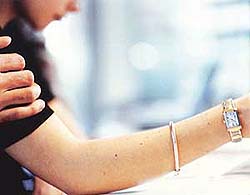 THERE has been an increase in incidence of cases of sexual harassment at the workplace, something that reflects the perception of woman as an object. This can take the shape of employees/superiors giving or promising something in exchange of physical or sexual favours or, in reverse, some service loss inflicted or threatened for withholding such favours. With more and more women coming into the workforce instances of harassment by the boss, colleagues, even juniors, are on the rise because the attitude towards women remain feudal and oppressive.
Although a lot needs to be done for the betterment of women, present-day women are certainly far better off than those of the earlier decades. Successive governments have made efforts to protect the rights of women to fulfill these goals. New laws have been enacted at regular intervals and the old ones have been revised. Separate departments, such as the women and child welfare department, have also come into existence. Only betterment of women can lead to progress and development of the society and the country. The status of women workers in India is clear from the fact that 94 per cent of them are engaged in the informal unorganised sector and only 6 per cent in the organised sector. According to census estimates, about 81 per cent of the women workforce is in rural areas. But the 1991 Census found a marked decrease of women agriculture labour, indicating the fact that women in the organised sectors are making their way.
With more and more women becoming wage earners in our country, both in rural and urban sectors, it is imperative to study the problems faced by them at their workplaces so as to provide remedial measures for improvement of their condition and reduce their harassment. To accelerate overall growth and prosperity of the nation, it is very important to create opportunities for socio-economic development of women in rural India, as they constitute half of our population and play a vital role in the development of society.
Various provisions facilitating equality were adopted by the Indian Constitution some three decades ago which enabled the passage of a variety of laws and measures aimed at the improvement of the status of women in post-Independence India. But the legal changes have limited personal significance for most women .
Some of the frequent/significant problems relating to women at work can be classified as under :
Work pressure is much more for women as there is a passive resistance to highly placed women.
There are inadequate employment opportunities available for women.
There is economic exploitation of the workforce of uneducated women .
Harassment extends to aggravation, annoyance, irritation, molestation, nuisance, tormenting etc. Most harassed working women are hesitant to complain about their plight. In India particularly, most victims still prefer to bear it in silence than to lodge a complaint. This stems from the fear of losing the job itself, getting transferred, or inviting other reprisals, etc. Women rarely approach the police, who are just as unsympathetic as the judiciary in cases of sexual harassment.
The failure of an employer to investigate a complaint of sexual harassment properly has been assumed as tacit support of gender discrimination. Ordinarily, a complaint must be acted upon within 24 hours of it being received.
An unwelcome physical, verbal or non-verbal conduct of a sexual nature is defined as sexual harassment. The 'workplace' is defined in the guidelines as any area where an employee is required to represent, carry out, perform or implement any duties, obligations or services required, whether at the instance of the employer or otherwise.
Non-verbal sexual harassment
Gaping: Every time an employee looks up the same person is staring at her
Inappropriate facial expressions: Those expressions that are distasteful, unprofessional and suggestive, such as blowing kisses, winking or suggestive licking of the lips.
Inappropriate items/decor: Items or decor that are denigrating such as sexual remarks on T-shirts caps, cups and glasses, desk plaques and paperweights, handling decor or calendars.
Verbal sexual harassment
Pet names : Names like babu, honey, sweetheart or hunk, belong only to your personal life, if you choose to use these diminutives.
Hearsay : Generating hearsay campaigns about a person's intimate and personal life. Rumours and gossip are destructive for people and productivity.
Inappropriate sounds or comments : Hooting, kissing sounds, sounds of a vulgar nature, or comments of a sexual nature about figure or physique, looks or dress.
Steering conversation improperly: Attempting to converse about sexual reference, fantasy, or sex life, the steering of conversations towards sexual subjects, directly or through innuendo. On August 13, 1977, a Bench of the Supreme Court headed by the Chief Justice gave a landmark judgement on gender equality, including prevention of sexual harassment or abuse.
The Court enjoined on employers, both Government and private, to ensure that women do not work in a "hostile" work environment, whether caused by employees or outsiders.
India is among the nations which participated and were signatories to the convention for elimination of "All Form of Discrimination Against Women 1979". Article 13 of this Convention advocated strongly for human rights for women. Moreover, the Constitution of India and other legal enactments have several provisions intended to safeguard the rights of women. The issue of harassment of women in workplaces has not yet attracted sufficient judicial attention.
Even though Indian criminal law has not so far addressed itself specifically to the topic of harassment of women in the workplace, there are various provisions in the civil law which are applicable to such situation and instances.
There is an urgent need to carry out detailed investigations both by the official and private agencies to find out the extent to which the women in the offices are being exploited, and who are the persons involved in these activities, so as to take steps to safeguard women.
(The writer is Chairperson, Orissa State Commission for Women)