BRIDES WANTED

GROOMS WANTED

OTHERS

HOW TO PLACE ADVTS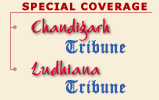 Congress, Left favour Narayanan
NDA defers announcement of Alexander's name
New Delhi, June 9
A delegation of Opposition parties today had a 35-minute meeting with President K.R. Narayanan, requesting him to stand for the second term since the National Democratic Alliance's likely nominee for the post of President, Mr P. C. Alexander, was 'unacceptable' to them even as the NDA today indefinitely postponed its meeting on the issue.
Pak welcomes peace signals
Islamabad, June 9
Pakistan today said reports that India was considering diplomatic and military gestures to reduce tension indicated that the current situation between the two countries was heading towards improvement.

Putin briefs Blair on talks with Vajpayee, Pervez
Four brothers kidnapped, killed
4 ultras killed in encounter
Jammu, June 9
Four brothers, Saifu, Abdul Gani, Gafoor and Abdul Rashid, were killed by the militants and their bodies were found by the police from Bernai forests in Mahore area of Udhampur district today.