Obese? Donít lose heart
B.L. Kawatra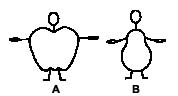 (A) Apple-shaped or upper body obesity
(B) Pear-shaped or lower body obesity
OBESITY is a condition in which there is an excess amount of fat stored in the body. It is a reflection of disordered energy balance resulting from energy input being in excess of its output. Obesity is widely prevalent in several developing countries, particularly those in rapid transition, and is affecting both adults and children.
A complex network of genetic, nutritional, physiological, psychological and social factors is involved in the pathogenesis of obesity. The normal proportion of body weight as fat is 15-20 per cent for men and 20-25 per cent for women. The pattern of fat distribution throughout the body affects metabolic consequences. A person with fat located predominantly in the abdominal region, the so-called apple-shaped or upper body obesity (Fig. A), may be at greater risk of some chronic diseases than another person with a greater total amount of adipose tissue that is located predominantly in the gluteal (buttocks) area.
Upper body obesity is common in males. In contrast, fat distributed in the lower extremities around hips or femoral region is characterised as pear-shaped or lower body obesity (Fig. B) and is common in females. The abdominal fat mass in any individual can vary for the same amount of total body fat. During the accumulation of any total body fat, males on an average have twice as much abdominal fat as compared to pre-menopausal females. Different ethnic groups in the population have marked differences in the risk of co-morbidities associated with abdominal fat accumulation. South Asians are more prone to the associated co-morbidities of abdominal obesity than Europeans. A strong association exists between overweight and adult onset diabetes. The prevalence of diabetes is about 2.9 times higher in overweight than in normal weight individuals.
Life insurance statistics reveal that when the body weight is 10 per cent above average, life expectancy decreases by 11 per cent in men and 7 per cent in women. In the case of individuals who are 20 per cent above ideal weight life expectancy decreases even further by 20 per cent for men and 10 per cent women.
Obese can be treated either by reducing energy intake or by increasing energy expenditure. Such individuals must give up those habits permanently which have led to obesity; otherwise the reduction in weight which he/she can expect to obtain from an anti-obesity diet will not be maintained when dietary restrictions are somewhat relaxed. Though the practice of weight reduction appears to be simple, it is very difficult to maintain. The desirable rate of weight loss is about of 0.5 kg a week. One kilogram of body adipose tissue provides 7000 Kcal of energy. Therefore, a daily energy gap of 500-1000 Kcal in the diet will provide a weekly loss of 0.5 to 1 kg of body adipose tissue.
A drastic restriction of energy is not advisable as it leads to hunger, nervous exhaustion, weakness and inadequacy of other nutrients. The food items normally eaten and their mode of preparation being followed by obese need to be worked out before proceeding for any new well-balanced diet plan. While working on the diet plan, care should be taken that it does not deviate too much from the established food habits.
For the treatment of obesity it is essential to regulate the daily intake of energy. First make a practice of weighing what you are about to eat, and this should be continued until you become accustomed to judging correctly the quantities of food. A suitable food balance for this on kitchen table is needed. Foods such as fats, sugars and alcohol, providing empty calories, should be restricted maximally and low calorie foods such as vegetables and fruits should be encouraged to provide not only less calories but also to enhance the intake of fibre and antioxidant nutrients.
For average obese men and women, a diet supplying 1500 Kcal a day and 1000 Kcal a day is advised respectively. The diet which provides about 1000 Kcal can be made up from about 50 g protein, 20 g fat and 160 g of carbohydrate or somewhat more for active men. In a severe case of obesity, very low calorie diets (800 Kcal or less are advised. To lose weight by a very low calorie diet is a drastic approach. Sometimes it leads to acidosis, hypertension and lowered basal metabolic rate (BMR). It is used for very obese individuals, but under strict medical supervision.
Patients should eat at scheduled times, and eating in between meals is to be avoided. Frequent eating outside the house or at a friendís place should be avoided. The consumption of fried foods (puri, samosa, parantha, etc.), ice cream, khoa, egg yolk, sugar, jaggery, pastries, cake, jam, jelly, soft drink, dry fruits, chocolates, candy, etc, should be avoided. Intake of mango, grapes and banana should be moderate, as these are energy-dense fruits. An adequate amount of fresh vegetables and fruits should be consumed as these are good sources of vitamins and minerals. Skimmed milk can replace whole milk. Legumes can be sprouted and consumed. This will enhance the bioavailability of protein and minerals and the quantity of B-complex vitamins.
The crucial technique of managing obesity is to alter oneís eating behaviour permanently and make exercise a part of lifestyle. Exercise like cycling, jogging, outdoor games, walking, treadmill, yogasana, etc, are valuable as these tone up muscle and increase energy expenditure. An hourís walk at three miles an hour will expend about 300 Kcal, which is approximately equivalent to the energy value of 30 g of fat. If the daily walk becomes a habit, it adds up to a weight loss of over 9 kg in a year. Aerobic activity sustained for a period of 30 minutes five times per week is considered appropriate.
The writer is a former Professor, Food and Nutrition, Punjab Agricultural University, Ludhiana.