Creative daughters of celebrity parents
Vrunda Juwale
GENES and geniuses. That's what we are talking about. Creativity, they say, often gets transmitted into the next generation, albeit in different measure and form. And where else would one see examples of this but in the goldmine of creativity—Bollywood? Just the mention of a few names would suffice: Pt Dinanath Mangeshkar and the legendary Lata, Asha, Hridaynath and Usha, S.D-R.D. Burman, Bimal Roy-Rinki Bhattacharya, Shobhana Samarth-Tanuja-Kajol, Harivanshrai-Amitabh-Abhishek Bachchan, Sardar-Anu Malik and so on. Lately, there have been Jeetendra-Ekta Kapoor, Rakhee and Gulzar-Meghana. But these are what one calls the 'established' children.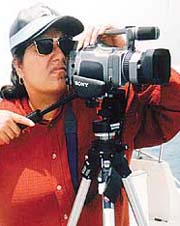 Antara Kak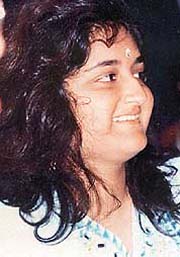 Payal Mukherjee
There are some who are the 'rising stars' of Bollywood or Tellywood. They have made an impact but they have to yet reach the peak of success and popularity. Like Antara Kak, daughter of Siddharth Kak (of Surabhi fame), who has won acclaim and an award for her debut venture: A Life in Dance-Daksha Sheth. Or Payal Mukherjee, daughter of yesteryear actress Moushumi Chatterjee who is the creative head at the Prime Channel that produces soaps like Gharwali Uparwali and Hum Saath Aath Hain. Or Pia Benegal, daughter of Shyam Benegal who has done costume designing for Zubeida, Dil Se, An English August and Bombay Boys.
Antara Kak's 49-minute film, A Life in Dance - Daksha Sheth, won her the IDPA (Indian Documentary Producers Association) award for the debutant director. Currently the supervising director for the popular cultural tele-magazine Surabhi-I, Antara started off as an assistant to her dad while she was still studying English literature at Mithibai College.
"Long ago, in Surabhi, we had featured Daksha Sheth, a Kathak dancer based in Kerala. She is a contemporary dancer who uses lot of martial arts and folk dance in her work," says Antara.
A Life in Dance... is a visual treat. Partly because of the subject -- Daksha Sheth, but chiefly due to the treatment given to it. "Making this film was a difficult experience," says Antara. "For Surabhi, we had to shoot just 7-9 minute episodes but here was almost an hour-long film on one subject. I shot it in seven days. Dad came for 2-3 days and left. The entire onus was on me."
The ultimate product speaks of her efforts. The highlight of the film is an 8-9 minute dance sequence where a couple dances on a rock surrounded by water. Antara has superbly shot their movements and the sensuality expressed through them.
She admits that dad has been a great influence on her but she does differ from him in her style of filmmaking. "He is a research person while I am more a hands-on or practical person. Also for this film, I shot and edited. That is something which dad doesn't do."
As for her other influences, she mentions Devissaro, husband of Daksha. Devissaro is of Australian origin and is a great photographer. "His lighting is superb. While shooting for A life in Dance..., I learnt a lot about it from him," she says.
Antara may just be one film old but she has already got her ideas of filmmaking right. "My main goal is to captivate my audience. I want to dabble in all genres. Today it's a non-fictional film, tomorrow it could be fiction and the day after a feature film and then I may again make a documentary," she says.
Currently, she is doing a film on science and technology in India for the Ministry of External Affairs. "One has to have a broad scope in mind to do different things," she feels.
As a child, Antara had dreams of becoming an air hostess because somebody in her relation was a flight pursor. And today? "My dream is to make an ad film at some stage," she says.
Way to go, Antara!
Going great guns in her field is Pia Benegal. Pia is currently based in New Delhi researching for a film funded by Sahara India Pariwar. It's based on the life and times of Netaji Subhas Chandra Bose. "The film on Subhasbabu is in the pre-production stage and I am working on its research and the insights that this kind of film requires to create that particular period," Pia says.
Strangely enough, Pia had never thought of making a career in costume designing. "I accidentally stumbled upon this career," she says.
After finishing her diploma in Mass Communication, she joined HTA. After a stint there, she was looking for other opportunities but somehow they did not materialise. "Then I decided to join my father and initially started handling production and administration on his documentary projects. Then one day, my father asked if I would be interested in assisting him in costumes and other allied areas. He always felt that I had an eye for detail, colour, aesthetics that could be utilised."
Pia's first film was Antarnaad and she quite enjoyed her work 'thanks to the freedom of creative statement given' to her. The experience took her to NIFT, New Delhi, where she did a diploma in fashion designing. Meanwhile projects kept coming—Mammo, Sardari Begum, Making of the Mahatma, Zubeidaa with dad and with other filmmakers like Mani Ratnam (Dil Se), Govind Nihalalni (Drohkaal), Dev Benegal (An English August) and Kaizad Gustad (Bombay Boys).
She remembers Antarnaad since it was her first costume designing experience—locations, working with a unit for the first time, interacting with different actors and so on.
"Making of the Mahatma also had its own special charm. Working with an international multi-racial unit, both in terms of stars as well as technicians, incredibly stunning locations in South Africa, and the research I had to undertake to keep the authenticity of the period in mind… that was unforgettable," she recalls.
As for Dil Se, her first big commercial venture, she says, "The experience of working with a very fine director like Mani Ratnam and, of course, Shah Rukh Khan and Manisha Koirala was very rewarding." Add to that shooting amongst the scenic beauty of Ladakh in the cold!
Pia admits that she has been greatly influenced by her dad's sense of discipline that he brings to his work whether he is dealing with his actors or technicians. "I try and incorporate the same sense of discipline with my work team, while keeping the interaction informal and friendly as he does too. We share the same commitment to our work and what we do… striving for constant perfection in our cinematic endeavours or otherwise."
One can't stop asking Pia if she eventually sees herself getting into filmmaking. "At present, no, but one has no idea about what the future holds… so let's see!" she says.
She is in her 20s but already enjoys a prime position in the Prime Channel, the company that produces soaps for television. But Payal Mukherjee need not flash the label 'daughter of Moushumi Chattterjee' anywhere. If today, she holds the post of creative head at the Prime Channel, it's on her own merit and hard work. She has proved it through the popular show hosted by Shekhar Suman - Movers and Shakers!
A sociology graduate from Mithibai College, Payal was introduced to good cinema by her parents Moushumi and Ritesh Mukherjee. By watching great Hollywood classics, she learnt a lot about filmmaking. But it was actually a two-year-stint in Sony as an executive producer that turned out to be a good foundation for her. "Movers and Shakers was a great experience -- setting up the whole show, being part of it - it was really interesting, something I always wanted to do," says Payal.
And yes, the show was a great success. She then worked at Inhouse with Jaaved Jaffrey. For the last two years, she has been with the Prime Channel, working on popular serials - Gharwali Uparwali and Hum Saath Aath Hain along with Nirja and Shrey Guleri.
Though born and brought up in a filmi family - her grandfather Hemant Kumar was a good singer and music director and her mom yesteryear popular actress Moushumi Chatterjee, Payal was never interested in acting. Moreover, in future if at all she wants to turn to commercial filmmaking, "It has to be a film with good thought. Today I see many people saying that they want to make different films. But I want to make films with good thought, they may not necessarily be different," she says.
Working for television ever since she completed her graduation, Payal admits that she is 'little tired today'. She has taken on a few assignments for the Prime Channel which she would finish in a year and a half. "After that I will free myself of TV and try my hand at films," she says.
As for mom, Payal says, "She always encourages me and gives her critical opinion on my work."