Militants massacre 5 in Udhampur, 6 in Doda
Tribune News Service And Agencies


Jammu, June 16
In a gruesome act, LeT militants shot dead five members of a family, including a woman and two children, and injured three others at a village in Udhampur district of Jammu and Kashmir, official sources said today.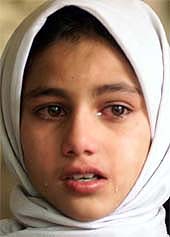 Tears roll down the face of an unidentified girl as she mourns the death of Firdous Ahmad, a civilian killed after a gunbattle at Gowherpora
villlage, 25 km west of Srinagar, on Sunday.
— Reuters photo
Armed militants entered the house of Soba Ram at Badar village last night and fired indiscriminately, killing him, his wife, two daughters aged between 13 and 15 years, and another male member on the spot, they said.
Soba Ram's son and two other daughters between eight and 12 years of age were injured.
The security forces have been rushed to the area and a hunt was on for the militants, the sources said.
Meanwhile, three pilgrims returning from the holy shrine of Sharda Mata were killed by the militants near Kharua village in Doda district yesterday evening and later the same group attacked an adjoining village and shot dead two Village Defence Committee (VDC) members, and a state government employee.
"When the group of pilgrims, returning to Doda, reached Kharua village they were fired upon from a nearby hilltop by the militants, leaving three of them dead and three wounded, the SSP, Doda, Mr Vijay Singh Samyal, said.
Thereafter, the same group of militants reached the adjoining Kuntwara village where some VDC members challenged them. In the ensuing encounter, two VDC members and one employee of the state Public Health Engineering Department were killed, he said.
Senior police officials have rushed to the spot.
Expressing concern over the attack on the pilgrims, the Union Minister for Food Processing, Prof Chaman Lal Gupta, and the BJP President, Mr Jana Krishnamurthi called for special security arrangements for ensuring the safety of yatris.


SRINAGAR: As many as 11 persons, including eight militants, were killed and three injured in separate incidents while a hideout was busted and a large quantity of arms and ammunition seized in the valley since Saturday.
Three foreign militants, one of them Abu Zubair Madni, a district commander of Al-Barq, were killed in an encounter with the security forces at Sogam in the Lolab area of Kupwara district on Sunday. Three AK rifles, six magazines, 15 rounds, a wireless set and six hand grenades were recovered from the site of the encounter, the police said.
Three militants of the Hizb-ul Mujahideen were killed in an encounter with the security forces in the Chadura area of Budgam district, near here, on Sunday.
A militant, Manzoor Ahmad Malik, was killed in an encounter with the security forces at Sarsuna Zainpora in Pulwama district on Saturday.
Another militant of the Hizb was killed in an encounter at Katipora, Maghama, in Baramula district. One AK rifle, five magazines with 121 rounds, two hand grenades and two wireless sets were recovered from the slain militant.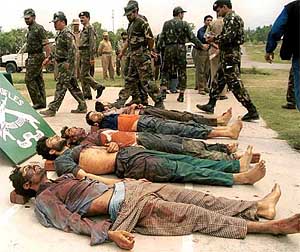 The bodies of three militants and two civilians killed during an encounter with security forces at Gowherpora in district Budgam of Kashmir on Sunday. — PTI photo
The Army and the SOG busted a hideout at Pulbarnar forests in the Bandipore area of Baramula and recovered two RPGs, three RPG shells and nine hand grenades.
An SI of the SOG was killed and two others were injured when their party was fired upon by the militants at Nownagri Tahab in Pulwama district on Sunday.
The militants shot a jawan of the BSF at the bus stand at Batamaloo on Saturday.
The militants shot a civilian, Gulzar Ahmad, in Kupwara district on Saturday.
One person was injured in an IED explosion at Hatlangauri in Baramula district on Saturday.