Original Beauty Queen of Hindi films
Devinder Bir Kaur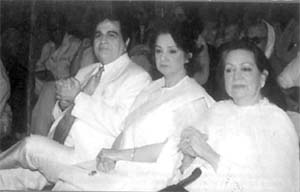 Dilip Kumar, Saira Banu and Naseem Banu
People today would remember her as Saira Banu's mother and Dilip Kumar's mother-in-law. But there was a time when Naseem Banu was known as the original Beauty Queen. Her daughter Saira's title, years later, was only hereditary and, perhaps, not so deserving.
Naseem Banu possessed natural beauty. She did not need to wear silks, satins and jewels galore to attract attention away from her face. She had the most gorgeous eyes — round-shaped, heavy-lidded, large. There was such kindness, compassion and innocence that no human would fail to be attracted and fall under her magic spell. Naseem had a plus point over most beautiful women: she possessed the rare quality of serenity. She wore her hair in a shoulder-length bob which she used to style in ringlets. There was just too much of Europe in Naseem; she appeared like a tall statuesque Swede, say like Greta Garbo.
Naseem Banu died
on Tuesday.
While most of the heroines of Naseem's 'zamana' rose from dire poverty and had not even been to primary school, Naseem was born with a golden spoon. That is why one never found gaudiness or vulgar display of wealth in her lifestyle, unlike most of the other stars who were first generation 'noveau rich' and displayed lack of taste by exhibiting their wealth like the illuminations on buildings on Republic Day. She was an only child and was denied nothing.
Naseem's entry into films was quite by chance. Her school had closed for summer vacation and she had come to Bombay with her mother on a visit. They stayed with a family friend. Every day she would plead with her host to take her to the film studios. Then one day she saw the shooting of "Silver King" starring Moti Lal and Sabita Devi. She decided that she would become an actress. She continued to frequent studios and got offers to work, but her mother turned them all down, for she wanted Naseem to study medicine. But Naseem was determined to pursue her desire.
Soon she got Sohrab Modi's offer of a role in his movie "Hamlet". She resorted to tears and hunger strike and at last her mother gave in. Naseem did "Hamlet" and became a sensation overnight. She returned to Delhi to complete her studies but found that she could not get admission to any college, for she had joined the ranks of film artistes. It was this attitude that made her seek a film career with a vengeance. She worked in "Khoon ka Khoon", "President", "Divorce", "Khan Bahadur", "Meetha Zahar" and "Vasanti".
Then came the greatest role of her career. She acted in Minerva Movietone's "Pukar", the historical classic whose charm and popular appeal remains unchanged even today. Naseem played Noor Jehan and the grey green-eyed Chandermohan played Jehangir. Dressed in Mughal finery amidst artistic sets, Naseem and Chandermohan made a handsome pair of royal lovers. She gave a heart-warming, tender portrayal of the immortal Mughal Queen.
In "Pukar" Naseem sang her own songs. She had learnt singing for two years. One number of "Pukar" which is remembered even today is Zindagi ka saaz bhi kya saaz hai....
Another Minerva Movietone film was "Sheesh Mahal" where Naseem gave an excellent portrayal of a poor daughter of a fallen zamindar. She seeks employment to keep the kitchen fires burning rather than live on charity. Dressed simply with hardly any make-up, an edge of pathos to her soft voice, Naseem gave a portrayal that moved audiences to tears. "Sheesh Mahal" also starred the green-eyed, voluptuous Nigar Sultana as the glamorous, spoilt rich heiress. Between Naseem and Nigar the audience was presented with a rare visual delight, their close-ups being enchanting.
After reigning as the queen of Minerva Movietone, Naseem began her reign over Filmistan. Her first picture under this banner, "Chal Chal Re Naujawan", with Ashok Kumar was a grand success. Another Filmistan hit was "Shabistan", a costume drama in which Naseem wore long flowing gowns.
In the early '50s, Naseem, having crossed her 30th year, played the lead with such young heroes as Shyam ("Shabistan"), Rehman ("Ajeeb Ladki") and Ajit ("Tarang") more than 10 years her junior, but the difference in age was not evident.
Naseem's husband Ehsan had become a film producer, and together they made "Ujala", "Mulakaat", "Begum", "Chandni Raat" and "Ajeeb Ladki" under the banner of Taj Mahal Pictures.
With the coming of other stars like Nargis, Suraiya and Madhubala, established stars like Khurshid, Nurjehan, Swarnalata, Mumtaz Shanti and Sardar Akhtar were pushed to the sidelines. Some later migrated to Pakistan. Naseem, Munawar Sultana and Nigar Sultana were the only three from the old brigade who continued side by side with the new breed of heroines.
Naseem then made a big mistake by taking up "C"-grade movies like "Baghi", a swashbuckling drama, with a non-star like Ranjan. Another movie was "Sindbad" where she played a pirate or some such thing, roles definitely not in keeping with her status.
Thus, by the mid-'50s, Naseem retired though she lit up the screen with a brief role in Minerva Movietone's "Naushirwan-e-Adil". It is said Guru Dutt offered her an important role in his "Pyaasa", but she turned it down.
Years later, in the '60s, after Saira was an established star with "Junglee", "April Fool", "Aayee Milan Ki Bela" etc, K. Asif was thinking of launching a movie based on the life of Empress Noor Jehan, with Naseem in the title role. She did not accept it. Other producers, when they came to sign up Saira, were enchanted with Naseem's well-preserved beauty and wanted to sign her up. She was reported to have said that she did not want comparisons with her daughter.
Naseem could have led a dull, listless life after retirement. Instead, she embarked on a new career of dress designing for Saira. Who can forget the sarees, with intricate embroidery only on the pallav, which Saira introduced in "Aayee Milan Ki Bela"? The tight salwar-kameezs with embroidery on the neckline and sleeves, sported by Saira in "Junglee", too were Naseem's creations.
Today, whenever "Pukar" or "Sheesh Mahal" are shown on TV, a new generation of fans get bowled over by Naseem Banu's rare beauty.