Sheryl Crow — C'mon C'mon
(Universal) **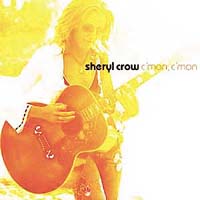 This is only Sheryl's fourth studio album and she's already right up there, being compared to the big names of country-rock-blues like Joni Mitchell, Joplin and Baez. Officially the album is a follow-up to 1998's moody Globe Sessions, though the truth is that its relaxed approach and irresistible upbeat mood picks up where 1993's Tuesday Night Music Club left off. C'mon C'mon doesn't change much of the formula that's made Sheryl a household name.
Pop with hard rock edge, the album is finely crafted, polished and mature-sounding. Despite any emotional odour that may have lingered around the studio sessions, the album manages to maintain a breezy, carefree attitude, with an obvious antecedent in '70California rock. Bolstering the album there's input from Emmylou Harris, Natalie Maines, Don Henley and many others who add a certain degree of flair to the proceedings without over-shadowing Sheryl's status as an artiste in her own right. The opener Steve McQueen grafts a twangy guitar lick onto a loping hip-hop beat to produce a bright, funky and jubilant track: "I wanna rock n' roll this party/ I still wanna have some fun." Sheryl overcomes romantic torment on Over You and gives Hole In My Pocket, another ode to her free-spirited tendencies. Besides songs reflecting her newfound poignancy, there are a couple of swaggering rockers, including Liz Phair on the deceptively frothy Soak Up The Sun. Sheryl's ear-catching offering is warm and vibrant and her vocals are as pleasant as ever. The album's ultimate number, however, is the track with Emmylou Harris — Wheather Channel. From its dabs of artsy orchestration to its gentle harmony, the track is a sure winner. Way to go Sheryl.
Spiderman — Original Motion Picture Soundtrack
(Sony Music) **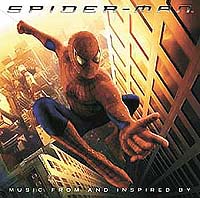 The Spiderman mania has finally hit India. Welcome to the soundtrack of the biggest debuting movie of all times. Like the blockbuster film itself, the music provides an enjoyable experience for everyone. While rooting for the metal rock outfits which are the flavour of the month with film producers, there's variety, not only from the rising star Pete Yorn but also from Macy Gray. Aerosmith provides an appropriately cartoonish cover of the original Spiderman Theme.
The producers have managed to entice Nickelback's Chad Kroeger to make his solo debut via the flick. He has recorded Hero with Saliva's Josey Scott. Songs such as Macy Gray's typical My Nutmeg Phantasy (remixed by Tom Morello) and The Strokes' sensuous When It Started work wonders. There are few solo shots, Jerry Cantrell of Alice In Chains performs the very Alice-like She Was My Girl and Corey Taylor of Slipknot gives a glimpse at the real guy behind the mask through the moving Bother. Sum 41 does the alternative version of What We're All About and Alien Ant Farm turns in Bug Bites. Other notable contributions to the soundtrack include Farewell by Danny Elfman, Shelter by Greenwheel, Invisible Man performed by Theory Of A Dead Man and Learn To Crawl by Black Lab. Indeed Spiderman offers more variety than most — it all adds up to a neat package.
Alan Jackson — Drive
(BMG Crescendo) ***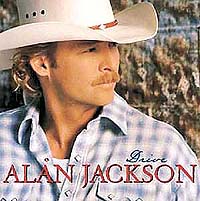 In an increasingly confusing world, Alan Jackson's music continues to bring us back to this very simple yet profound tradition: Country music has always been for the people. Alan's latest effort is probably his finest since Here In The Real World (his debut album). Alan Jackson's easy image — a relaxed crooner with his guitar slung low, his hat dipped, and slouching on a concert stool singing about family pride, struggles and the facts of daily living — is the stuff of fan approval. Drive, characteristic of Alan, is pure traditional country. The album covers twelve tracks touching the theme of everyday concerns sung by an everyday guy. It's the simplicity that makes this album a treat.
The songs reveal just how Alan has always understood that country music is about connections — a contemporary connection with the icons of the genre, as well as human connections passed from parent to child, friend to friend. On Where Were You (When The World Stopped Turning), Alan salutes the heroes of September 11 and mourns those who suffered losses. He adds, "I'm just a singer of simple songs, I'm not a real political man, I watch CNN, but I'm not sure I can tell you the difference between Iraq and Iran." One of the tracks that will get a lot of attention is Jackson's duet with the King of Country himself, George Strait, Designated Drinker, about a pair of drinking buddies trying to get over a girl who's broken their hearts. You cannot go wrong with an Alan Jackson ballad, and Once In A Lifetime Love certainly does not break his winning streak. I'm A Little Bluer Than That is bound to be a radio hit, where Alan sings about a man who can't seem to get over a woman who's left him for another man. That'd Be Alright uses a merry musical arrangement and Work In Progress is the singer's touching attempt to explain to his wife that he's trying to make things better. The title track is a beautifully realised homage to the rites of generational bonding. Simply put, the album has the ability to lift spirits, challenge priorities and heal hearts.
Album of the month
Alanis Morissette — Under Rug Swept
(Tips)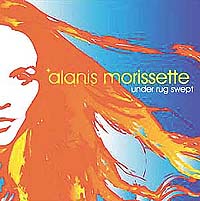 After rocking the music world with the angry and confessional Jagged Little Pill in 1995 and the even better follow-up three years later Supposed Former Infatuation Junkie, Alanis Morissette came up with a new genre for the listeners who could relate to the singer-songwriter's estrogen-empowered catharsis of feminine rage. Nearly four years later, comes Under Rug Swept. The album follows a pattern similar to the first two, meaningful and courageous, talking about personal issues, performed with a powerful vigor and penned with one eye on her diary and the other on her favorite poetry books.
The serendipitous Utopia was released online in an effort to calm American hearts and minds post-WTC: "We'd rise post-obstacle more defined, more grateful/ We would heal, be humbled and be unstoppable." For the most part Alanis abandons the spiritual insights of past efforts for more personal, lovelorn truths. However the wisdom of the singer's landmark sophomore album is not lost, as tracks like So Unsexy and That Particular Time are delivered from an older, wiser perspective. Time and again in her first fully self-written and produced effort (after splitting with co-writer and producer Glen Ballard), the most remarkable effect is the unmitigated and highly concentrated ferocity of her lyrical confessions.
The track Flinch is a perfect example of her stream-of-consciousness posturing, with lines like "How long can a girl stay haunted by you/ soon I'll grow up and I won't even flinch at your name." Alanis scores a hit with the first single Hands Clean, written as a hypothetical dialogue between her and former lover (Dave Coulier). The flagship of Under Rug Swept is undoubtedly 21 Things I Want In A Lover, a rock-based poetic list of romantic criteria, but Narcissus, which features her trademark spoken verse and wild chorus, appears close to it. Utopia is an idealistic coda you could read it as trite and naïve. You Owe Me Nothing In Return showcases an interesting perspective of obsession and That Particular Time is a simple torch song which taps into everyone's yesterdays. Precious Illusions is structured in Morissette's distinct lyrical fashion while the euphoric Surrendering is a slightly more cynical Head Over Feet. Now aren't you glad she's back?
— Saurabh & Gaurav