500 killed in Iran quake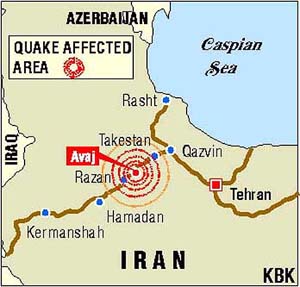 Qazvin, (Iran), June 22
A strong earthquake in northern Iran killed more than 500 persons and injured 1,100 as it devastated dozens of villages in a mountainous rural region.
A local official said 500 persons were so far reported dead and another 1,159 injured by the quake which measured 6.3 on the Richter scale.
Helicopters and rescue teams rushed to search for survivors in the area whose mud-brick homes are particularly vulnerable to collapse.
The quake struck shortly before 0830 hrs IST with its epicentre about 115 km southwest of the city of Qazvin and some 250 km west of the capital Tehran.
The official told the IRNA state news agency that some 60 villages around the town of Avaj had been razed to the ground or lost at least half of their buildings.
A pair of strong after-shocks inflicted more damage. A Qazvin medical official said 206 dead persons had been taken to one hospital in the city and 170 to another.
Ambulances screamed along the road to Qazvin, delivering more dead and wounded to hospitals in the region. Non-critical patients were being discharged to make room for the injured.
A town of 3,600 persons, Avaj is close to the top of a high pass through the rugged Nobaran Mountains on the main road between Qazvin and Hamedan to the southwest. Reuters