Asia's useful trees and plants
K.L. Noatay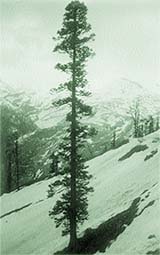 Silver fir is a large evergreen Himalayarn pine tree attaining a considerable height and girth. The scientific name and the species being Abies pindrow, it belongs to the plant family Coneferae. Regional and local names are tosh, poplar, badar, budar, tung, kulrai, satrai, etc. Some scientists call it Abies webiana.
Natural habitat of silver fir starts from nearly 2000 m above mean sea level and goes up to 3300 m or so. Geographically it starts from Bhutan in the East and goes up to Afghanistan in the West. Its common associates are spruce, thuja, kail, walnut, poplar, oak, acer, taxus, etc. The tree can be seen growing in cool pockets of deodar forest as well.
Silver fir can be easily identified in the field by mature tree's graceful tallness, dark green needle-like foliage, smooth silver white bark of young poles and dark grey to greyish brown, deeply cleft and vertically fissured bark of mature trees.
Tosh, being a pine of upper reaches of the Himalayan ranges, it flourishes best in tracts having temperature from 32°C to 12°C, and experiencing 1100 mm to 2500 mm of precipitation, partly in the form of monsoon rains and partly as winter snowfall. It prefers deep calcarious soil and avoids dry and exposed aspect.
Silver fir loves shade when young, but once fully established it matures faster in pockets and getting good sun. Its root system is generally superficial and, therefore, it is quite susceptible to uprooting by wind and storm.
Compact stands of fir are generally less susceptible to forest fires. But if any burning somehow occurs on the forest floor, the damage to this tree specifically is considerable because it is extremely sensitive to even smoke.
The leaves of silver fir are 5 to 7 cm long, thin and linear-like flattened needles, arranged on woody twigs in two opposite vertical rows. Their tips are notched. Upper side is dark green and the lower side has two pale glaucous bands on either side of the mid-rib, which is prominently raised. New leaves sprout in April-May. These usually stay on the woody shoots for three to six years. On colder aspect these may continue even up to eight years. The shedding of the mature needles occurs during May-June — soon after the new ones sprout.
Flowering on silver fir also takes place during April — May. The male and females flowers grow separately, but simultaneously on the same plant. The male flowers are 1 to 2 cm long catkins. Female cones are generally solitary — occasionally in pairs, erect and close to the tips of the shoots. Mature cones are cylindrical, erect, egg-shaped, 10 to 16 cm long and 4 to 8 cm in diameter. These take nearly 12 to 14 months to ripen and yield viable seed for natural regeneration and or artificial propagation. The scales of the cone are thin, obovate and have rounded edges. The seed is held securely inside scales, is 10 to 12 mm long, with 1 to 2 cm long wing. These are shed out of the cones automatically once the latter are fully mature towards the on set of winter.
Silver fir is a slow growing species. Nevertheless its wood, nearly white in colour, is straight grained and soft. It does have resin in its ducts but the quantum thereof is very little. This wood weighs nearly 14 to 15 kg per cubic foot. It is not very durable and, therefore, not very popular as a construction timber. It tends to deteriorate when exposed to vagaries of weather and/or excessive heat and moisture. As a result, like spruce, fir wood too is used for making shingles, ceiling planks, cheap wall paneling, packing cases, tea chests, match sticks and boxes. However, knot-free fir wood in good length, width and thickness is highly prized for structure of aircraft.
So far as regeneration of silver fir is concerned, once its natural forest having sufficient seed bearers, is closed to grazing and other biotic factors, the regeneration comes up naturally. The process is comparatively easier on the slopes having mixed broad-leaved trees to afford cool shady environment to young tender seedlings germinating on the forest floor out of the seed landing on the ground below and around the mature mother trees. However, as good-seed years are not so frequent, i.e. these occur only once in six to 10 years or so, human assistance is necessary to help the regeneration to come up. The foresters, therefore, clear the forest floor of excessive leaf litter and any debris of recent timber extraction operation. They then hoe the ground in patches at a prescribed spacing and broad-cast the seed collected from other forests to ensure natural regeneration to a desired extent.
For artificial regeneration, nursery beds are raised. These are laid in deep sandy loam soil. Sowing in beds is done in November-December i.e., before snowfall. Germination occurs in March-April after the snow melts. Transplanting of nearly 15-month-old nursery seedlings is done during next monsoons or following winter.