Tuesday, June 25, 2002, Chandigarh, India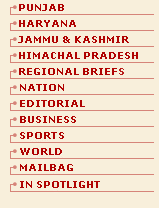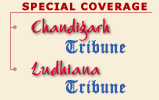 M A I N N E W S
PM willing to talk: Omar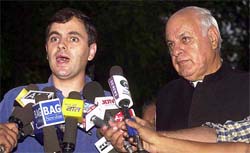 National Conference president Omar Abdullah (left) talks to reporters in front of the PM house in New Delhi on Monday, while his father and Jammu and Kashmir Chief Minister Farooq Abdullah looks on.
— PTI photo
New Delhi, June 24
After a week of Centre-bashing on various issues, Jammu and Kashmir Chief Minister Farooq Abdullah and National Conference chief Omar Abdullah today met Prime Minister Atal Behari Vajpayee today and discussed the controversial issue of autonomy for the state and Omar's continuance in the NDA government.
After a 30-minute meeting, Omar Abdullah told reporters that the Prime Minister assured them of his willingness to hold discussions with state leaders on their demand for the devolution of more powers.
"The Prime Minister assured us that he is willing to hold discussions on the devolution of more powers to the state and I will take this assurance back to my party and chalk out future course of action," Omar Abdullah said.
Asked about the statement of Minister of State for Home I.D. Swami that the Centre would not restore the pre-1953 status to the state, Omar said: "When you begin a discussion, you start with your maximum demand. Later, whatever comes out of the discussion and is mutually acceptable would be implemented." PTI