M A I N N E W S
HP to get back Annandale Ground
Tribune News Service and agencies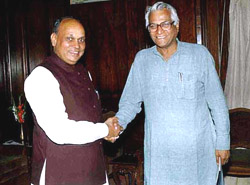 Himachal Pradesh Chief Minister Prem Kumar Dhumal with Union Defence Minister George Fernandes in New Delhi on Tuesday.
New Delhi, June 25
The Ministry of Defence has agreed in principle to hand over 121 bigha Annandale Ground Complex to the Himachal Government, Chief Minister Prem Kumar Dhumal said here today.
The Chief Minister had headed a high-powered state government team which met the Union Defence Minister, Mr George Fernandes in Raksha Bhavan here on the issue.
Mr Dhumal said the joint inspection team of top defence officers and state government would inspect the site soon in which state government would offer three alternative sites at Ganhatti, Garog and Jubbarhatti to the Army authorities for the setting up of helipad grounds for operational and other purposes.
The ground complex was leased out to the Army in 1955.
Though the lease had expired in 1982, the state did not acquire it keeping in view the requirement of the Army, Mr Dhumal said adding the Defence Minister appreciated the role of state and also the difficulty faced by it.
The Chief Minister said that Shimla airport had been expanded with all modern facilities like refuelling, ATC security in and around the airport as per aviation standards which could also meet the operational requirements of the Army authorities.
He told the Defence Minister that the state government proposed to convert Annandale Ground Complex to undertake modern activities like national games, national-level exhibitions, social cultural gatherings, public meetings and rallies and multi purpose complex.
He said the state government had decided not to hold public functions on the Ridge as beneath this ground is the water storage tank of 10 lakh gallons which is literally the life line of the city.
The Defence Minister, Mr George Fernandes, appreciated the role of the state government in providing all assistance to Army personnel posted in the state. He also appreciated the difficulty being faced by the state government and thanked it for taking positive and constructive stand on the issue.