Thursday, June 27, 2002, Chandigarh, India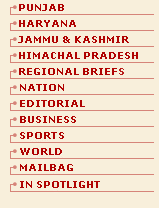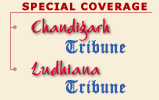 M A I N N E W S
4 kids die in wall collapse
Tribune News Service
Dharamsala, June 26
Four schoolchildren were buried alive when the wall of a newly constructed room in Government Primary School, Kharauta, near here, collapsed due to a land slide, following a heavy rain.
The temporary retaining wall behind the newly constructed room collapsed as muck and slush burst into the room, burying the children. Out of the 56 children in the school at the time of the mishap, four died on the spot and 12 others were injured. The condition of four children admitted to Dr Rajendra Prasad Medical College is reported to be critical.
A local labourer, Prakash Chand, was the most unfortunate as his two daughters, Manisha (7) and Jyoti (10), died on the spot. The two other deceased are Aman and Sagar, both aged seven.
Local villagers swung into action immediately after the mishap and pulled out the children from under the slush. The injured include Arun, Nisha, Deepak, Shivam, Gautam, Ravinder, Anita, Nisha, Aswani, Asif Ali and a two labourers, Chaman Lal (19) and Rinoo (18), who were working there.
The room had been completed four months back. As the rainfall became heavy and water seeped into the two old rooms of the school, the teachers shifted the children to the new room, the wall of which gave way due to landslide.
The room was strewn with school bags, mats and shoes.
The Deputy Commissioner, Mr Prabodh Saxena, and the Superintendent of Police, Mr Sanjay Kundu, along with other officials rushed to the spot of tragedy.
Mr Saxena said because of the landslide, the wall of the newly constructed room caved in, flooding the room with slush. The pillars supporting the wall and roof also collapsed. The school has three rooms, while one is still under construction.
Mr Saxena said a relief of Rs 5,000 had been given to the families of the deceased and Rs 2,000 for the injured. He said that an ex gratia of Rs 25,000 would be given by the government to the families of the four children killed in the mishap.
The villagers, who carried their injured children down the 3-km trek, said that had the panchayat, which undertook the construction, erected a pucca retaining wall, there had would have been no tragedy.