When we started our trek to Tapovan our porters were already on the crest of the glacier, moving in a line, bent under their burden, looking like some giant ants from outer space. It was a tough climb. We met a group of Bengali youth who were returning. They told us they had gone up the Shivling to a height of 19,000 feet and had set up camp there for a couple of days, looking down on the world below.
Unlike the trek to Gaumukh, there is no regular path marked out on the glacier. There cannot be, for every day the topography changes. Due to temperature changes or settling of the snow caused by subterranean suction, huge cracks, called crevasses, develop in the glacier. Peeping into them with curiosity tinged with trepidation, one has the uncanny sense of walking over a living monster with a deep cavernous body — a sprawling, wriggling Chinese dragon.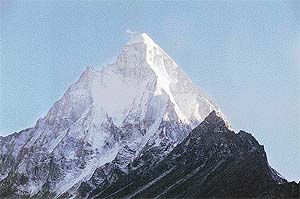 The sight of Mt Shivling is spectacular
After a while I noticed we were going in the direction of the Bhagirathi peaks and not the Shivling. My companion Rakesh, who has scaled several peaks, confirmed my suspicion, and said we were indeed heading towards Nandan Van. We, therefore, retraced our steps.
We cut across the glacier at last, but not before I had rested two or three times. Now we had to go up a slippery, steep climb for about a kilometre — the final assault. We were already at a height of about 13000 feet above sea level, and on the steep climb I felt out of breath and stopped after a few determined steps to sit on a boulder and take in the weird, moon-like landscape of the glacier below. I must have rested about 20 times as I crawled up. But I was supremely happy and at peace, and was, in fact, gloating over my achievement. I had sent Rakesh and the others ahead to get the tents and other things in place.
The sun shone brightly in a clear sky. It was only half past two by my watch. Everything was going on schedule. Problems could have arisen only in the unlikely event of a rain or shower, which sometimes came unexpectedly on such hot and sunny afternoons, making the path slippery, your toes numb and your advance difficult.
There is a Chinese saying that the journey of ten thousand miles begins with a single step. Perseverance pays. There is no task so difficult as cannot be accomplished through dedication. I reached my Everest at 3 p.m. The Shivling looked on in benign benediction. I sat there in silent thanksgiving, contemplating the serene face of the mountain.
I rose then and came slowly to the camping site. The Bengali Baba sat cross-legged in front of his tin-roof hut — an extension of a natural cave made by the Mataji who had lived in it earlier. His matted locks covered his naked, sun burnt shoulders. He was a stocky, ebullient man, who responded effusively to my greetings, and told me he knew about my coming. I was puzzled. Was it prescience or divination? Was he trying to impress me with his occult knowledge? He sensed my puzzlement and smiled, and said that a porter sent by Lal Baba who had reached ahead of me had told him about my coming and then Rakesh and party had arrived. His wife made me a cup of excellent hot coffee — a luxury at a height of 14,000 feet.
Rakesh pitched our tents near the hut, mine facing the Shivling. I removed the flaps and reclined in it, looking straight at this mountain-sized Ganesha sculpted by the elements. It is incredible. It has a snow topi, its trunk coming down to its expansive belly, its huge ears flapping against an azure sky. I gazed without batting an eyelid. A shimmering, translucent tranquillity reigned. Looking at it I felt an indescribable sense of peace descending on me. Stillness pervaded save for the lone hill myna's call as it swooped down to peck at the Baba's hut. It was a dream come true — fulfillment of a long-cherished desire. I closed my eyes. Emily Dickinson's words came to my mind: "The soul selects her own society, and then shuts the door."
I remained in that state of trance for a long time, eyes half-shut, neither sleeping nor awake, bordering on both. As the daylight mellowed in the evening, the glare and the dazzle on Ganesha's aspect gave way to a suffused translucence. I came out and strolled beside the nimble stream that comes down from Shivling, anointing myself with its cool waters. In the distance I saw a herd of wild antelopes grazing on the hillside. Reindeers heralding the advent of Santa Claus, I wondered.
Soon it was dark, and the stars came out in a silent and luminous night. There were more stars than the sky could hold. They jostled for space. Sitting there, surrounded by moving stars, it was possible to believe that we too lived on a star, traversing the silent, unfathomable space. Immobility was an illusion created by the earth's immensity.
The cold was benumbing. I went into my tent and got into my sleeping bag without undressing. Till one gets acclimatised, there is a loss of appetite and sleep at this height. I took some soup, and amidst tossing and turning, caught some fitful snatches of sleep. When I opened my tent again, the first rays of the morning sun touched the mountain tops. The sky was clear, and soon the whole meadow was bathed in a golden light. It was such a respite from the cold embrace of the night.
Rakesh and I went to meet the 'Shimla Baba', another saint living at a little distance, whom I had also met on my previous visit. We found him furiously scrubbing his kettle. The chores don't leave you even in paradise, I reflected. I greeted him, and he smiled in recognition. He had aged and greyed. He, too, had the same thought about me, and alluded to it. I smiled and remarked that old age was something we noticed only in others. He burst into a hearty laugh at my quip.
Taking his leave, we went some more distance on the ridge towards Khara Pathar. The Bhagirathi Peaks now seemed very close, just across the sinking, shrinking glacier. I stretched myself on a huge slab of stone, wallowing in the luminous environs and my great good luck. We came back to camp for lunch, and I again got into my tent and resumed my Shivling-watch. In the evening, Jodhsingh had made some pakoras, which we shared with the two German boys who had also set up camp near us. They were delighted. They were going to Nandan Van the next day. They were tough and focused.
The new moon, just a strip of silver, came up in the night. It hung over another hill to the right, a good deal away from the Shivling. I wished it had been closer to the mountain. That would have made a pretty picture. There should be some way of bringing them closer, I thought. I walked some distance on the footpath, back and forth, but to no avail.
Next morning, Bengali Baba invited me to his cave dwelling and his wife treated me to delicious seviyan. It was now time to pack up, and start our descent from paradise. We had to reach Gangotri that day. My leisurely gait was further slowed down as I kept casting lingering looks at the scene I was leaving behind. At Gaumukh, I bade a hasty adieu to Shivling, for I had 18 long kilometres to go before nightfall. I wished there was a platform of cut and chiselled boulders near Gaumukh with some cells beneath it for shelter at night. One would not be in a hurry then to leave, and view the trinity of the Gaumukh, the Shivling and the Bhagirathi peaks in peace and at leisure. And a trace of the ethereal serenity shall pass into the hearts of the beholders. At present there is no place where one can halt or stay for the night near Gaumukh, and pilgrims stay here only briefly and return.
By the time I reached the half-way mark, Chirbasa, in the afternoon, I was thoroughly exhausted and lay down under a tree to rest. I dozed off as a cool breeze caressed my hot temples. When I opened my eyes, I saw the blue sky streaming through the leafy canopy of blue pines. A resplendent golden oriole flitted through the leaves, and then a little red-breasted robin came and perched on a twig, scrutinising me, as if enquiring if I was OK. I gathered myself to reassure him and resumed my trek. When I reached the Gangotri temple the gongs and drums were being played for the evening aarti. There was a huge throng of people. I sat in the open court long after the last devotee had departed, and the stars came streaking in the sky.