When mothering turns into smothering
Rajshree Sarda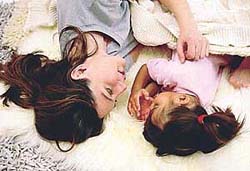 Parents need to give breathing space to children

FEW of us have escaped the influence of parental smothering. Indeed most of us grew up in households in which there was a steady stream of directions, new directions, revised directions, commands and reminders, all delivered in anxious, irritated or threatening tones. "It is late. Get up this minute. Do not forget to brush your teeth. You are late for school." "Do not come in till you have wiped your feet. Change your clothes now. This very minute." "Start your home work. Turn off the television set. No wonder your grades have fallen. Shape up." "Now get ready for bed. You should have been in bed an hour ago. Be quiet and go to sleep."
Many of us were exposed to this type of barrage daily. It is a form of parental anxiety about the child. In their earnestness to do their best for their children, mothers often end up smothering them.


Dear readers,
Looking after the home and children is usually considered a woman's responsibility. As more and more women join the workforce, they have to balance their responsibilities at work with demands of domesticity. We invite answers from the readers to the question: Do working women make better wives and mothers? Mark the entries: "Attention Her World.' The word limit should not exceed 300 and you should send in your entries within one month to:
Editor, The Tribune, Chandigarh.
The truth is, children sometimes need to be left alone, given time to connect to their own thoughts, feelings and interests, but many parents fear this means neglecting the children. Children also need to be alone to explore their environment. In this way, they discover their unique individuality, their powers and capacities — an ability they need in adult life.
If the atmosphere during childhood has been of smothering with a constant stream of directions, then the children may adopt the active/passive resistance path. Since active resistance could result in punishment, children adopt a form of passive resistance. So when a parent calls out, the child says, "Yes, I am coming" but continues to play. To the parent, this stalling seems purposeless. Many a parent has expressed irritation about their children's dawdling tactics. But the dawdling does have a purpose. It protects their individuality.
Fatigue is another significant sign of passive resistance and this in many cases gets extended to adulthood, even after marriage. I know a woman whose main complaint is chronic exhaustion. She was sent to me by a physician who could not find anything physically wrong with her. From the story of her childhood, it was plain that her inability to do her house work was a reaction to smothering in childhood.
When her husband runs out of shirts, the house has not been dusted, her kitty friends are coming to visit her, she will stay up half the night, toiling at the washing, ironing and cleaning. As a result of this, she gets really exhausted and postpones all other work to a later time.
Ido not want to bring up this painful topic to make parents feel bad. My experience is that most parents do these things out of love and ignorance about the repercussions of their actions. Then all of a sudden they realise that they just might have created a child who is very different from what they had wanted. But it is the children who suffer because something in them remains undeveloped, and they are made to feel rotten.
Children need space to be their own person. They do not need adults constantly telling them they love them, doing things to prove it and having the child tell them back they love them. Love does not need words. In fact, the more we say it, put it into words, the more we create situations where, as adults, it has to be proved to us with words and gifts. If our children do not say goodbye, do not say they love us or give us a hug, who feels insecure? Not the children. They are telling us that they feel strong enough to be their own person.
Nurturing is more important and it should not be confused with smothering. Nurturing helps the child blossom while smothering leads to behavioral problems. When the parent suffocates the child, the parental objective is to control. For the smothering parent, the underlying agenda is criticism and judgement of the child. This type of parent makes all the decisions for the child and essentially takes away the child's voice.
We really do not need to give children as much attention as we think we do. They need time, everyday, to be alone, to feel and experience life on their own. When children get older, the problem gets extended to doing things for children that they can do themselves, like cleaning their rooms, getting their clothes, and rushing to do their simple chores. What does this mean? We are prolonging their dependence on us, but worse than that, we are not giving them the experience of learning, living and struggling that is so much a part of developing and growing.
The effect of smothering on a marriage can lead to bitter resentment and chaos. More often, it is a persistent and unhappy feeling of futility, of "getting nowhere", of exhaustion because nothing seems to work out as planned. The marriage situation carries within it all kinds of expectations concerning the marital partner and what constitutes the "duties" and "responsibilities" of the man and woman.
A young lawyer , along with his pretty wife, came to me for counselling as all wasn't well in their marital life. This man had overdominating parents who used to decide everything for him in the name of love and concern. With the result, at the age of 29, he still felt directionless. He went to office, sat down at his desk but could not work. Nothing felt right. He felt so distracted that he was unable to do much work apart from making a few pointless notes. He went home grumpy, annoyed with himself and would get irritated with his senior partner (father) who was waiting to find out what work he had done.
He would sulk till his wife humoured him. He would often slip into a stupor and begin daydreaming.
The question that he put it to me was, "How long will my wife put up with me because she is busy with an equally complex task — managing the house and the children?" In place of the brilliant career he expected to make for himself, he is just managing to get along in his job. The problem was that he was capable and intelligent but resisted applying himself until he was given a severe threat. This was a behavioural pattern he acquired in childhood, when he resisted his parents' directions in just this passive fashion until a threat or ultimatum was given to him.
This is the way many people who have been objects of smothering go through life. Miserable, at times anxious, fearful and resentful, unable to attain what they are equipped to do, or want to do . They are dissatisfied with themselves and their efforts. Often, their first insight into the fact that something is wrong is that they are passed over when promotions are made.
Smothering parents stifle the child so that the child grows up without knowing who she/he really is. The child is unable to cultivate the tools needed to adequately blossom and realise his/her full potential. So when parents tend to prevent the child from making an effort or a demand, they are actually depriving him/her of the opportunities to learn and to take satisfaction in his own efforts. Such a child will never learn to take the initiative or to make persistent effort.
So, next time when you, as mothers or fathers, fall into this trap in the guise of loving your child, think again and think of the possible consequences.
(The writer is a clinical psychologist)
Tips for parents
There are some key factors to help your children to be confident, sensitive to their internal sense of balance and able to communicate needs and feelings as well as respect others.
Children must have a structure and routine that is consistent. They need boundaries that help them know what is expected of them. This also means that parents need routines.

Children must have breathing space, time to be alone so that they can connect to their inner self.

Do not give your child too much. Less is best. Take a good look at what is happening in the world. About 15 per cent of the population consumes 90 per cent of the world's resources.

Teach children how to face adversity, challenges and obstacles. Life is full of them. Do not do everything for the child. During difficult times, do not be guilty or try to make everything okay. Show them it is all right to feel pain, to fail, to make mistakes, to be afraid, Instead, equip them to face life.

Say "no" when you need to, but not when you don't. Set rules beforehand and when you go to public places.