BRIDES WANTED

GROOMS WANTED

OBITUARIES

OTHERS

HOW TO PLACE ADVTS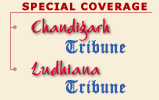 Work withdrawn from three Judges
Chandigarh, June 29
Weeks after an inquiry into the alleged involvement of Punjab and Haryana High Court Judges in the Punjab Public Service Commission recruitment scam was initiated by the Chief Justice, work was withdrawn from Mr Justice Amar Bir Singh Gill, Mr Justice M.L. Singhal and Mr Justice Mehtab Singh Gill.
CM justifies Saini, Bhatnagar transfers
Chandigarh, June 29


Transfers of top brass of the Intelligence Wing of the Punjab police and selective arrests by the Vigilance Bureau figured prominently at the press conference addressed by the Punjab Chief Minister, Capt Amarinder Singh, here today.
Intelligence never crossed limits: Bhatnagar
Chandigarh, June 29
K.S. Bedi of Punjab and Sind Bank, arrested last week in the recruitment scam, spilled the beans when he was summoned by the enquiry team set up at the instance of the Chief Justice of Punjab and Haryana High Court to look into allegations of involvement of certain senior members of the judiciary in the scam.