Editor's note:
Dear Readers,
We started Log in... Tribune on July 31, 2000, in order to bring you closer to the hi-tech world of information technology and computing. In the last 100 issues, we have presented varied developments in an easy-to-understand language. We have discussed topics that impact your lives and have given you the right input to navigate the increasingly incomprehensible world of IT. (Note in full)

Using bacteria for data
Radhakrishna Rao
In a major breakthrough, researchers have edged close to manipulate tiny bacteria to sub serve drug research by partly replacing living cells. As envisaged now, the so-called cyber cell project will have a "profound influence on the way we do life sciences research in the future," points out Michael Ellison, director of the Institute for Bio-Molecular Design at Edmonton.




Schizophrenia and virtual reality
AUSTRALIAN scientists are using virtual reality to conjure up demons plaguing schizophrenia patients to help them realise they are not real. By confronting the psychoses, staff at the Mental Health Research Institute in Melbourne and the University of Queensland in Brisbane hope patients will be better able to deal with their hallucinations and ignore them.

IT happens in Bangalore
Soundara Rajan N.S.
SIMPUTER that received raving reviews - The New York Times hailed it as the most significant technological innovation of the period and the IT Ministry awarded it the first Dewang Mehta Award - is all set to go places, literally. The developers of Simputer, encouraged by the response received from Chattisgarh, where it has been deplloyed in educational projects, are working out newer applications.

Prompted by school magazine, he is MCSE at 11
Naveen S. Garewal
For a hardworking person, age is no bar. Imagine, barely 11 and equipped with a Microsoft Certified Systems Engineer (MCSE) certification. That is exactly what Harmanpreet Singh, a Ludhiana student, has achieved while still being in Class VII at Guru Nanak Public School, Ludhiana. Harman has achieved this distinguished feat with barely a years coaching at a local institute, backed by encouragement from his doctor parents. "My goal is clear. I want to be a computer engineer from one of the prestigious IITs of the country", says Harman, as his friends know him.

S.C. Dhall & Sachin
AS competition in the financial services market grows, banks are facing an increasing need to distinguish their remote banking services from their competitors. In tandem with the growth in competition, emerging front end technologies are increasing the number of delivery channels which customers may use to connect to the bank. Rapid growth in the number of Internet connections and users has opened up a large market of cyber consumers. As more and more useful services are being offered over the Internet business and home users, Internet use looks set to rise in popularity to compete with other forms of communication such as telephone and television.

IT vision for agro sector
V.P. Prabhakar
IN pursuance of the decision of the Union Government to boost information technology, the Department of Agriculture and Cooperation, Union Ministry of Agriculture, has formulated Information Technology (IT) Vision 2020.

Make CPU work faster
Mayur
OVER the past 15 years, the power of microcomputers has increased dramatically. When people talk about computing power, they usually mean the speed with which the computer processes data. Therefore, more computing speed means faster processing. The circuitary design of a CPU determines its basic speed, but several additional factors can make chips already designed for speed work even faster. You must already be aware of some of these, such as CPUs, registers and the memory, cache memory, clock speed, data bus, and math coprocessor affect a computerís speed.

Search on for NASA hacker
POLISH prosecutors said they were searching for a computer hacker believed by the USA to have penetrated NASA (National Aeronautics and Space Administration) causing damage reportedly estimated at $1 million. The search was focusing on Poznan in the west of Poland, a country that has a tradition of code breaking dating back to helping crack Nazi Germany's Enigma encryption machine during World War II.

Wireless still has miles to go
Sonia Kolesnikov
WIRELESS enterprise services still have some way to go in Asia, as, in fact, in the rest of the world. Though deployment of services has happened in some countries, those are mainly trials and pilots tests, rather than full fledged roll out, and at this stage wireless continues to be very much an emerging market, analysts from a US-based research and consultancy firm, IDC, said.

IT WIT
by Sandeep Joshi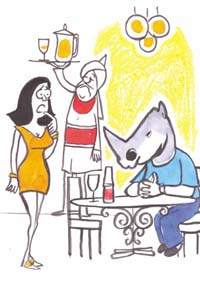 ... and I thought cool_rhino was just your screen name!
For vacations, prefer offline mode
Tom Templeton
Although it sounds too good to be true, the papers say that holidays to the Mediterranean are going for as little as $ 74 per week - and at that price I'm keen to get my pale mitts on one. Apparently the cheapest way to do so is through an online auction.

Piracy still prevalent in India
SOFTWARE piracy is a growing problem among businesses internationally as well as in India. Even with a decrease in the software piracy during the last 10 years, it is still high in India. According to IDC estimates, the money lost in 2001 from pirated software is estimated to be close to $ 245 million, which is almost half of the legal packaged software market. This revenue loss was mainly due to piracy by unauthorised copying and selling and unauthorised bundling with hardware.

GRAPHIC: Growth of Indian IT Industry