M A I N N E W S
Shatrughan, Jana, Verma inducted into Cabinet
T.R. Ramachandran
Tribune News Service


Deputy Prime Minister L. K. Advani, Prime Minister Atal Behari Vajpayee and new BJP chief Venkaiah Naidu during the Cabinet expansion at the
Rashtrapati Bhavan
in the Capital on Monday.
— Tribune photo Mukesh Aggarwal
New Delhi, July 1
Weighed in by the caste factor and endeavouring to provide greater representation to the South, Prime Minister Atal Behari Vajpayee inducted 13 ministers — four of Cabinet rank and nine Ministers of State — here this evening.
The largest exercise of this nature undertaken by Mr Vajpayee so far both in revamping his government and the BJP party organisation simultaneously is a clear signal of the battle lines being drawn for the ensuing challenges at the hustings in the states and the general elections in 2004.
The Prime Minister's strategy of consolidating the disparate NDA grouping has not been without its attendant irritants with Trinamool Congress chief Mamata Banerjee refusing to rejoin the government for having been rebuffed about regaining the Railways portfolio as evidenced in the case of Union Defence Minister George Fernandes.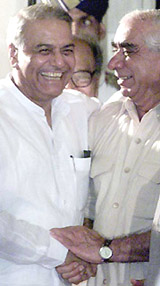 Mr Yashwant Sinha (left) congratulates Mr Jaswant Singh after swapping portfolios as part of a government reshuffle.
— Reuters photo

Mr Vajpayee refused to divest Samata Party's Nitish Kumar of the Railways portfolio. Ms Banerjee was willing to settle for some other ministry provided Mr Nitish Kumar was moved out of the Railways as in her opinion the latter had done incalculable harm to her home state, West Bengal.

The Prime Minister remained unbudging and Ms Banerjee boycotted the swearing-in ceremony at Ashoka Hall of Rashtrapati Bhavan where President K.R. Narayanan administered the oath of office and secrecy to members of Mr Vajpayee's Council of Ministers.

There is no immediate danger of Ms Banerjee's Trinamool Congress breaking free from the NDA. For the present she has decided to remain in the NDA fold and the Trinamool Congress will remain a thorn in Mr Vajpayee's flesh.

The distribution of portfolios was on expected lines with External Affairs Minister Jaswant Singh and Finance Minister Yashwant Sinha swapping places. Those sworn in today were: Cabinet Ministers — Mr K. Jana Krishnamurthi, former Delhi Chief Minister Mr Sahib Singh Verma, Mr Shatrughan Sinha (all BJP) and Balasaheb Vikhe Patil (Shiv Sena); Ministers of State (independent charge) — Mr N.T. Shanmugam (PMK); and Ministers of State — Baba Gouda Patil, Mr Vinod Khanna, Mr Sanjay Paswan, Mr Shripad Naik, Mr S. Thirunavukkarasar (all BJP), Mr Anand Geethe (Shiv Sena) and Mr A.K. Murthy (PMK).

The Union Council of Ministers is heavily weighed with members from the Hindi heartland especially the BIMARU states as the BJP draws its strength from there and has slipped sharply in the past two years. The strategy is to gear up its loins for the electoral battles ahead in the North and make the BJP's presence felt in Tamil Nadu, Karnataka and to a lesser extent in Andhra Pradesh. Kerala remains unrepresented.

Sources in the BJP insist that if Ms Banerjee remains adamant in her demands being met, then she is free to chart her own course. The BJP-led NDA has a comfortable majority in the Lok Sabha and the strength of the Trinamool Congress of nine MPs might not make a material difference in terms of the critical arithmetic.

Mr Vajpayee's jumbo Cabinet has touched an all-time high of 76 members — 31 Cabinet Ministers, six Ministers of State with independent charge and 39 Ministers of State. Impartial observers and BJP watchers had no doubt that Mr Vajpayee's expansion-cum-reshuffle had the indelible imprint of Deputy Prime Minister L.K. Advani.

Even as the Prime Minister

sought to give representation to Punjab in cine star Vinod Khanna, who represents Gurdaspur in the Lok Sabha, making his advent in the government along with BJP's Rajya Sabha MP Shatrughan Sinha. There are three new ministers from Bihar, four from Tamil Nadu, three from Maharashtra and one from Karnataka primarily to woo the Lingayat community which has begun to distance itself from the BJP.

There were no great surprises in store about the distribution of portfolios of at least the Cabinet Ministers. The ousted BJP President, Mr Krishnamurthi, has been given Law and Justice, Mr Sahib Singh Verma, who had been promised by the Prime Minister that he would be part of his Cabinet, has been made the Social Justice Minister. Mr Shatrughan Sinha is expected to be the new Health and Family Welfare Minister. Shiv Sena's Balasaheb Vikhe Patil, who has been elevated to Cabinet rank, gets Heavy Industries. While Samata Party's Minister of State Digvijay Singh has been moved from Railways to External Affairs, Shiv Sena's Anant Geethe will be Mr Jaswant Singh's junior minister in the Finance Ministry.

BJP's Sripad Naik, who resigned from the Vajpayee government and unsuccessfully contested Assembly elections in Goa, is back in the Union Government. He will be Minister of State for Civil Aviation while Mr Vinod Khanna is Minister of State for Tourism and Culture.

Six ministers made their exit from the Vajpayee government. While Mr Venkaiah Naidu succeeds Mr Krishnamurthi as BJP President and Mr Arun Jaitley has been made BJP general secretary and spokesperson, others like Mr C.P. Thakur, Ms Maneka Gandhi, Mr Dhananjay Kumar and Mr Munni Lal were dropped for non-performance.


Cabinet Ministers

Portfolios

Jaswant Singh

Finance

Yashwant Sinha

External Affairs

K. Jana Krishnamurthi

Law & Justice

Balasaheb Vikhe Patil

Heavy Industries

Sahib Singh Verma

Labour

Shatrughan Sinha

Health & Family Welfare

Ministers of State

Vinod Khanna

Tourism & Culture

Shripad Naik

Civil Aviation

Sanjay Paswan

Communication

A. K. Murthy

Railways

Sharad Yadav

Consumer Affairs & Public Distribution

Shanta Kumar

Rural Development

Digvijay Singh

External Affairs

Anant Geethe

Deputy to Jaswant