M A I N N E W S
Family touch to swearing-in
Tribune News Service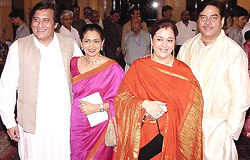 Vinod Khanna and Shatrughan Sinha with their wives after being inducted Union Ministers at Rashtrapati Bhavan in the Capital on Monday.
— Tribune photo Mukesh Aggarwal
New Delhi, July 1
The Cabinet expansion ceremony today was not only colourful but had a personal touch as former BJP President K. Jana Krishnamurthi arrived there with his wife and daughter.
After a long time, President K.R. Narayanan also came to meet mediapersons and others after he had sworn in 13 new ministers of Prime Minister Atal Behari Vajpayee's Cabinet.
Not only Mr Krishnamurthi came along with his family members but even cine-stars-turned-politician Shatrughan Sinha arrived in the Ashoka Hall with his wife Poonam, two sons and his elder brother.
Another cine-star Vinod Khanna, Lok Sabha MP from Gurdaspur, arrived with his wife.
Deputy Prime Minister L.K. Advani was there with his wife Kamla, son Jayant and daughter Pratbiha.
Mr Advani, who mixed freely with mediapersons and his Cabinet colleagues, made everyone present burst into laughter when he said: " I am Deputy Prime Minister in the government but at home, I am the Deputy Home Minister".
Mr Advani said there might have been some change in protocol after his elevation as he had received two invitations for the swearing-in function.