THE TRIBUNE MAGAZINES
On Mondays

On Sundays
On Saturdays

IN PASSING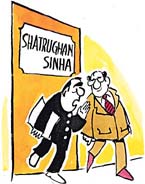 He is demanding one director, two asstt directors, one makeupman, one lightman, two spot boys...

by Sandeep Joshi
2 die in shooting at airport
Los Angeles, July 4
Gunfire erupted today at the ticket counter of Israel's El Al airlines at Los Angeles international airport, killing two persons, the police said.
Pro-LTTE Vaiko booked under POTA
Madurai, July 4
Two days after Tamil Nadu Chief Minister Jayalalitha declared her government's intention to arrest MDMK chief Vaiko, MP, for his pro-LTTE utterances, the police today registered an FIR against Vaiko and eight others under POTA and unlawful activities act in what is considered to be a prelude to arresting him for his statements.
Jagmohan for cut in air travel tax
New Delhi, July 4
Concerned over the fall in international tourist inflow into the country after the September 11 attack on the USA, Union Tourism and Culture Minister Jagmohan has urged the Finance Ministry to reduce air travel tax and duties in aviation turbine fuel to make the aviation sector more competitive to attract more tourists.

Nation page: Survey: India safe for foreign tourists
Another death due to tubectomy
Victim discharged one hour after operation
Bathinda, July 4
Rani, a 24-year-old mother of three small children allegedly died a few hours after a tubectomy operation was performed on her in the Civil Hospital, Raman Mandi, 40 km from here, yesterday afternoon.

Family members of Rani, who died a few hours after a tubectomy operation at a civil hospital, register their protest to the Civil Surgeon at Bathinda on Thursday. — Photo Kulbir Beera
PM in a bind on Mamata issue
July 4, 2002

Parleys on to rope in Mamata
July 3, 2002

Shatrughan, Jana, Verma inducted into Cabinet
July 2, 2002

Jaswant Singh to be new Finance Minister
July 1, 2002

Advani appointed Deputy PM
June 30, 2002

PM may have deputy
June 29, 2002

3 jawans die in blast on Amarnath yatra route
June 28, 2002

CBI raids Tehelka premises
June 27, 2002

Print media thrown open to foreign investors
June 26, 2002

Stand by your pledge
June 25, 2002