M A I N N E W S
Thousands bid adieu to Ambani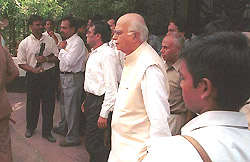 Deputy Prime Minister L. K. Advani comes out of the Ambani residence after paying his respects to the mortal remains of Dhirubhai Ambani in Mumbai on Sunday.
Mumbai, July 7
Thousands of mourners from different spheres of life today bid farewell to India's business legend Dhirubhai Ambani, Chairman of Reliance Industries Ltd (RIL), who died yesterday aged 69.
His mortal remains were consigned to the flames at the Chandanwadi crematorium here this evening.
The pyre was lit around 6.40 p.m. by his elder son Mukesh Ambani, amidst the chanting of vedic hymns.
The industrial patriarch died some minutes before midnight at Breach Candy Hospital here, where he had been admitted 12 days ago after suffering a cerebral stroke.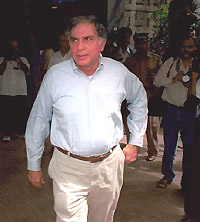 Mr Ratan Tata, Chairman, TATA Group, comes out of the Ambani residence after paying his respects to the mortal remains of Dhirubhai Ambani in Mumbai on Sunday.
— PTI photos

Mourners turned up at the crematorium and all along the route of the funeral procession to pay homage.

His body was brought to the crematorium on a flower-decked carriage from his 'Sea Wind' home at Cuffe Parade in South Mumbai. It was taken to the crematorium in a crowded procession from S.K. Patil Udyan at Charni Road.

Commoners and VVIPs brushed shoulders as they took part in the funeral procession.

His last journey was attended among others by former Prime Minister Deve Gowda, Bollywood superstar Amitabh Bachchan, former Lok Sabha Speaker Balram Jakhar, Congress leader Murli Deora and Mr Buta Singh.

Other heavyweights present included Union Minister Vinod Khanna, Nationalist Congress Party (NCP) leader Sharad Pawar, former Maharashtra Deputy Chief Minister Gopinath Munde, Madhya Pradesh Chief Minister Digvijay Singh, and veteran actor Shammi Kapoor.

The funeral route was covered with petals and overhead banners and posters hailing the late tycoon.

The funeral pyre was lit by his sons Mukesh and Anil, in the presence of the entire Ambani clan, except its female members.

Around 450 kg of sandalwood and 45 kg of ghee were used for performing the last rites by priests Neeraj Kumar Shastri and Shravan Kumar Sharma from Kakarwadi Arya Samaj.

A large number of industrialists, politicians, film stars and scores of Reliance employees and shareholders were among those who attended the funeral of the patriarch of the Ambani family.

Crowds began to throng the S.K. Patil Udyan earlier in the day to catch a last glimpse of their favourite "Dhirubhai''. Many even climbed terraces and roofs to

have an easy view of a man credited with bringing in the "equity cult'' in India.

Many a tear-eyed investor present at the funeral hailed their beloved business wizard, saying: "Dhirubhai amar rahe (long live Dhirubhai)''.

Old-timers here said the turnout of huge crowds outside the crematorium was unprecedented.

Thousands of people thronged the roadside, a footover bridge and a railway platform of the Marine Lines railway station, opposite the crematorium. Many, however, met disappointment as they failed to have a glimpse of the late industrialist because of tight security. Regular announcements were made on the public address system asking the people to keep calm.

A tight security blanket was thrown around the entire 1-km route from the garden to the Chandanwadi crematorium, which was spruced up for the funeral of the legendary tycoon, son of a poor schoolmaster from an obscure village of Chorwaad in the Saurashtra region of Gujarat.

A strong legion of 500 police personnel formed a human chain to keep the crowds from pouring in on the streets while ropes were tied on the other side of the road to prevent public from getting too close.

Minister of State for Home Kripashankar Singh reviewed security arrangements near the crematorium.

Wreaths were placed by Mr Vijay Goel, Minister of State in the PMO's office on behalf of Prime Minister Atal Behari Vajpayee and by Mr R.K. Dhawan for Opposition leader Sonia Gandhi.

The otherwise-formidable iron gates of the Ambani residence were thrown open to mourners since the wee hours of morning as a steady stream of people poured in to have a last glimpse of their beloved business tycoon, who dominated the equity culture in the commercial capital for over past four decades.

A large posse of private security men stood guard along the gate, shouting out orders to vehicle drivers that pulled outside Ambani's residential complex while a special squad of private security men strictly monitored the entrants to the residential complex and ensured that the mourners formed a neat queue.

The fragrant smell of incense sticks wafted through the basement and the soft strains of "Shree Krishna Sharnam Mamah" and "Om Bhur Bhuvasva" gently filled the air, as streams of mourners walked in a disciplined queue towards the flower-decked body of the Ambani patriarch.

The gold-rimmed photograph of a beaming Dhirubhai decorated with fresh red roses overlooked the mourners when they passed by.

The tycoon's sons, Mukesh and Anil, daughters Nina and Dipti and his daughters-in-law Tina and Neeta, all dressed in pristine white, greeted mourners with folded hands and accepted condolences.

After the funeral, both Mukesh and Anil came out and addressed the mourners with their hands joined together.

"On behalf of the Ambani family, I wish to thank each one of you for your personal presence here. I would also like to personally apologise that we could not accommodate all of you inside the crematorium.

"We, the family members, are very fortunate to have been present at my father's bedside when he left on his last journey," Mr Anil Ambani said.

A stream of celebrities from the business world right from Ratan Tata to Anand Mahindra streamed in since early morning. The palatial mansion also appeared as a congregation of leading film stars and personalities with mega stars like Amitabh Bachchan, accompanied by wife Jaya and son Abhishek, showman Subhash Ghai, actors Sanjay Dutt, Jackie Shroff, actress Karisma Kapoor and Shabana Azmi paying a visit.

The entry of Hrithik Roshan, however, sent the security personnel into a tizzy with the streams of onlookers breaking the cordon to have a look at the megastar. UNI, PTI