M A I N N E W S
Urdu daily Editor shot at
Tribune News Service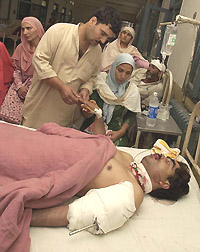 An injured Shaid Rashid lying in hospital after he was shot at by unidentified gunmen in Srinagar on Wednesday. — Photo Amin War.
Srinagar, July 10
Unidentified gunmen shot at and seriously injured an Editor of a vernacular daily on the outskirts of the city even as a National Conference block president was fired upon here today.
Mr Shahid Rasheed, printer, publisher and Editor of an Urdu daily, State Reporter, received bullet injuries in the right arm and right side of his face. He was taken to SMHS Hospital where he was operated upon. According to doctors attending on him, his condition was out of danger.
The incident, which shocked the Press fraternity for the second time during the recent weeks, took place at about 9.25 am when Mr Rasheed left his home for office.
The gunmen, according to eyewitnesses, were hiding near parked vehicles and opened fire as soon as Mr Rasheed reached the main road on his scooter.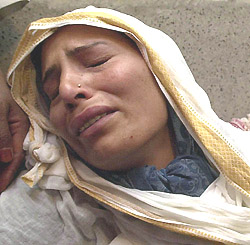 The grieving wife of Shahid Rashid outside the operation theatre at the hospital. — AW
Bleeding profusely, Mr Rasheed fell off the scooter and was taken to Bone and Joints Hospital where he was referred to SMHS Hospital.
Some gunmen had shot at and seriously injured a reporter of Kashmir Images in his office last month.
The another incident, three persons, including two militants, were killed in the valley since yesterday.
The police said the militants fired at Mr Bashir Ahmad Wani, a block president of the National Conference at Baba Demb, this afternoon. He had been admitted to SMHS Hospital where his condition was stated to be out of danger.
Two militants were killed in an encounter with the security forces at Gadoora in Pulwama district yesterday. One of them was identified as Mushtaq Ahmad Bhat. The police recovered two AK rifles, three magazines and 30 rounds from the site of the encounter.
An SPO was shot by unidentified militants at Arin, in Bandipore of Baramula district yesterday.