FILM REVIEW
Saga of love, pain and Bacchus
Sanjeev Singh Bariana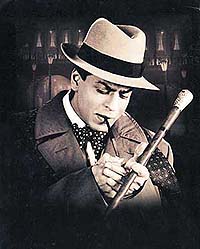 'Devdas' (Piccadily, Chandigarh, Suraj- Panchkula, and Bassi- SAS Nagar) is a magnificent screen rendering of a poignant saga of a timeless love tragedy. Comparisons with the earlier K.L.Saigal and Dilip Kumar classics apart, the Shahrukh Khan starrer has left no stone unturned in a true-to-character adaptation of the role of an alcoholic lover.
Sanjay Leela Bhansali has done a masterly job in maintaining the settings of the early 1900s. Nevertheless the essence of the story is not bound in barriers of any time. One hallmark of the tragedy is that no undue wastage of tears or emotions has been done to create a theatrical impression of a heightened tragedy. Understatement only lends a greater grace.
The love treads the meadows of innocent feelings of togetherness, transcending physical bonds, which are a hallmark of passionate love stories today.
There is, however, a feeling that a 50-crore budget is perhaps a little more than necessary expenditure, which could have been cut down. The lighting also needed a little more care.
Ismail Darbar has lent poetical colours through his music. Beautiful lyrics by Nusrat Badr somehow resound dimly in the background of loud music.
Shahrukh Khan has slipped effortlessly into the garb of an alcoholic, moving slowly into the lap of the self-chosen path of death. Madhuri Dixit as Chandramukhi is inimitable and Kiron Kher as Paro's mother deserves much more than a simple word of appreciation. Also featuring in the cast is Aiswarya Rai, who has made her presence felt among a galaxy of good performers.
Khan and Aiswarya have grown up together since childhood till he leaves for England for his law degree. He returns back nursing the same love for her and she loves him equally. A marriage looks inadvertent till Khan's family announces a clear 'no'.
Aiswarya is married off in a rich zamindar's family. Khan leaves his home in disgust. He falls into company of Jackie Shroff, a Bacchus lover, and falls in love with Bacchus as well. Dixit, a prostitute, falls in love with Khan, who ultimately accepts her love .
Such love stories may not be a pick for the youngsters today, but the characters in this saga are touching indeed to create and change existing impressions.
'Shararat' (Batra) is another debacle Abhishek Bachchan will have to face, leaving him in a very uncomfortable situation while attempting for his first success in Bollywood.
A very good and a novel story idea somehow has very poor screen execution. The package as a whole is very loose and does not promise a good future. The presentation lacks conviction and unity of action, with too many unnecessary additions to increase the story length.
A local court punishes Abhishek for rash driving. He has to stay in an old-age home in a hilly town amidst old people. He is a rebellious man, against any set laws of normal life. The gang of old men led by Amrish Puri is out to reform him.
The film also features Liril girl Hrishita Bhatt, Helen, Dara Singh, Om Puri, Daisy Irani and A.K.Hangal, besides others. Gurudev Bhalla has directed the film, which is a Pen and Jayantilal Gada presentation. Sameer is the lyricist.