Tuesday, July 16, 2002,
Chandigarh, India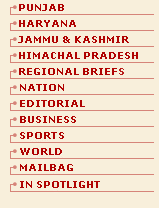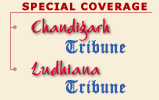 J A M M U & K A S H M I R
NEWS ANALYSIS
J&K poll may be put off by 6 months
Jammu, July 15
The Central Government is said to be serious about holding the next Assembly poll under Governor's rule which, it finds, could act as a bait to rope in separatists willing to take part in the poll.
Nation page:
Saxena to continue till J&K poll
PUCL for involvement of people in J&K
Fund-starved ultras turn robbers
No discussion on autonomy: CM
Srinagar, July 15
The Jammu and Kashmir Chief Minister, Dr Farooq Abdullah, here today ruled out further discussion on the autonomy issue at the brief autumn session of the state Legislative Assembly which begins here tomorrow, adding that the Centre had appointed its representative to discuss the issue.
19 bodies unite, form Jammu State Morcha
Jammu, July 15
More than 19 political, social and trade organisations have come together under the umbrella of the Jammu State Morcha (JSM), headed by a senior RSS leader, to give momentum to the movement for a separate Jammu state.
US TV channel briefed on border fencing
Jammu, July 15
While the international community is putting pressure on Pakistan to curb infiltration and cross-border terrorism, the security forces of that country are spreading the canard that India is exporting terrorism into Pakistan.
Pahalgam gets facelift for Amarnath yatra
July 15, 2002
NC ready for poll under Governor's rule
July 14, 2002
No respite in sight for valley commuters
July 13, 2002
Omar softens stand on Governor's rule
July 12, 2002
Lathi charge on migrants: NC hand alleged
July 11, 2002
Transporters' stir hits life in valley
July 10, 2002
'Facilitate' return of Pandits to valley
July 9, 2002
Put off Assembly poll, insist Gujjars
July 8, 2002
5 killed, 33 hurt in J&K violence
July 7, 2002
PoK-based Hizb 'sabotaged' ceasefire
July 6, 2002