Wednesday, July 17, 2002, Chandigarh, India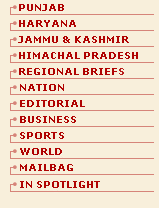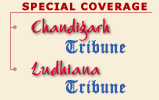 J A M M U & K A S H M I R
Trifurcation demand a conspiracy: Farooq
Oppn stage walkout over Jammu massacre
Srinagar, July 16
While Chief Minister Farooq Abdullah has asked the VHP and the RSS to desist from raising issues like the trifurcation of Jammu and Kashmir, members of the Legislative Assembly, cutting across party lines, today opposed the demand, describing it as dangerous.


Video (28k, 56k)
| | |
| --- | --- |
| | A traffic policeman diverts vehicles at Jehangir Chowk. The road leading to the state assembly was closed to civilian movement on Tuesday, the opening day of the four-day special session of the assembly, in Srinagar. — PTI photo |
13 hurt in two J&K blasts
Srinagar, July 16
At least four persons were killed in separate incidents while 19 others were injured in two grenade explosions in the Kashmir valley since yesterday.
J&K poll may be put off by 6 months
July 16, 2002
Pahalgam gets facelift for Amarnath yatra
July 15, 2002
NC ready for poll under Governor's rule
July 14, 2002
No respite in sight for valley commuters
July 13, 2002
Omar softens stand on Governor's rule
July 12, 2002
Lathi charge on migrants: NC hand alleged
July 11, 2002
Transporters' stir hits life in valley
July 10, 2002
'Facilitate' return of Pandits to valley
July 9, 2002
Put off Assembly poll, insist Gujjars
July 8, 2002