THE TRIBUNE MAGAZINES
On alternate Mondays

On Sundays
On Saturdays

IN PASSING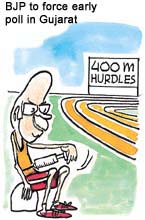 by Sandeep Joshi
Laloo meets Advani on railway bifurcation issue
New Delhi, July 17
Rashtriya Janata Dal President Laloo Prasad Yadav today urged the Centre not to change its earlier decision about creation of new railway zones.
Namaz, mahayajna to appease rain gods
Lucknow, July 17
Though the monsoon has failed to keep its date with Uttar Pradesh, the common man has not yet lost hope. Muslims and Hindus today performed special prayers in various parts of the state capital to appease the rain gods.
Punjab to hold talks with staff on pay cut
Bathinda, July 17
To avoid any confrontation, the Punjab Government has decided to engage itself in a dialogue with its employees over the issues pertaining to cut made in their salaries, including freezing of DA, for about one year to tide over the financial crisis which it has been facing from day one.
Opposition attacks govt on ways to end terror
July 17, 2002

Death to Sheikh Omar
July 16, 2002

Protesters keep Advani away from carnage site
July 15, 2002

Ultras kill 25 in Jammu
July 14, 2002

Punjab defers ordinance on tainted appointees
July 13, 2002

Venkaiah blends youth with experience
July 12, 2002

PM for consensus on labour reforms
July 11, 2002

Alexander quits
July 10, 2002

Parties reject EC order
July 9, 2002

Thousands bid adieu to Ambani
July 8, 2002