City to witness Rajat on stage soon
Our Correspondent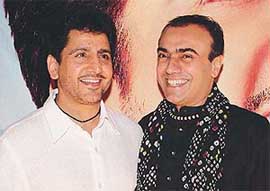 Gurdas Mann and Rajat Kapoor at the music release of "Zindagi Khoobsurat Hai" at Piccadilly Hotel, Sector 22, in Chandigarh on Monday. — Tribune photo Parvesh Chauhan
Chandigarh, July 22
For injecting a new lease of life in the "dying" art of theatre, TV actor-cum-theatre personality Rajat Kapoor will soon be holding plays in Hindi and English in the city.
In Chandigarh for the music release of Gurdas Mann-starrer "Zindagi Khoobsurat Hai", Rajat, in an exclusive interview with Chandigarh Tribune, said he would soon be visiting Tagore Theatre for the purpose.
"Chandigarh, I believe, is a city inhabited by intellectuals," asserted Rajat, clad in black kurta-payjama with a Jaipuri shawl lightly swinging from around his neck, "I basically want to see the response of city residents".
Sitting next to him, Gurdas Mann, commenting on his new Hindi movie, asserted, "I had to work hard on improving my Hindi as the role required it".
Giving details, Mann, dressed casually in a white shirt and trousers, revealed: "In this movie, I haven't crooned the songs. Anything in excess, you see, is not appreciated. I am basically a pop singer, not a playback singer".
Regarding the storyline, he said, "A part of the story revolves around mentally challenged children. But right now we do not want to disclose the details of the movie".
Movie producer Manjeet Mann added, "The movie is expected to be released in the first week of September. The next Hindi movie I am planning to produce is 'Mere Ghar Aana Zindagi'."
Regarding her passion for producing movies, she asserted, "I am always on a lookout for good Punjabi stories. As soon as a story appeals to my mind, I start thinking on the terms of making a Punjabi movie out of it.
Today's music release was different. Instead of just holding a press conference and handing over the cassettes to the gathering, the organisers had arranged for the screening of the songs.
At about 12.45 pm, the entire hall in a Sector 22 hotel plunged into darkness as the organisers switched off the lights and Gurdas Mann appeared on the screen singing a song. In all, at least three of his songs were screened. After the screening session, the movie stars answered the quarries amidst laughter and applause. Director Manoj Punj was also present.
The cassette contained seven melodious tracks with music by Anand Raj Anand.
They claimed that the album was a blend of mixed songs, including love numbers, qawwalis, and even a song for children. "Zindagi Khoobsurat Hai" is a medium-budget film, they added.