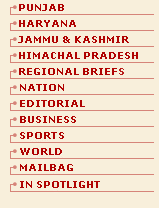 Thursday, July 25, 2002, Chandigarh, India
Updated at 3:00 am (IST)
Centre unveils package for
drought-hit
New Delhi, July 24
Faced with the worst drought situation in 12 years, the Centre today announced a multi-pronged package to tackle the situation. The package involves extension of the Calamity Relief Fund to all farmers, postponement of debt recovery from farmers, payment of the outstanding Rs 1,000 crore to cane growers and extension of the deadline for making claims under the Crop Insurance Scheme.


CAST YOUR VOTE
Should there be early elections in Gujarat?